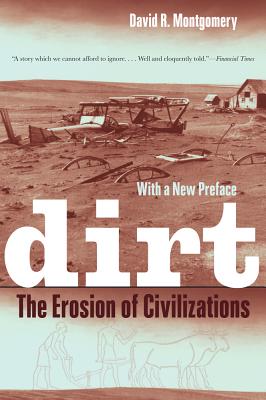 Dirt
The Erosion of Civilizations
Paperback

* Individual store prices may vary.
Description
Dirt, soil, call it what you want—it's everywhere we go. It is the root of our existence, supporting our feet, our farms, our cities. This fascinating yet disquieting book finds, however, that we are running out of dirt, and it's no laughing matter. An engaging natural and cultural history of soil that sweeps from ancient civilizations to modern times, Dirt: The Erosion of Civilizations explores the compelling idea that we are—and have long been—using up Earth's soil. Once bare of protective vegetation and exposed to wind and rain, cultivated soils erode bit by bit, slowly enough to be ignored in a single lifetime but fast enough over centuries to limit the lifespan of civilizations. A rich mix of history, archaeology and geology, Dirt traces the role of soil use and abuse in the history of Mesopotamia, Ancient Greece, the Roman Empire, China, European colonialism, Central America, and the American push westward. We see how soil has shaped us and we have shaped soil—as society after society has risen, prospered, and plowed through a natural endowment of fertile dirt. David R. Montgomery sees in the recent rise of organic and no-till farming the hope for a new agricultural revolution that might help us avoid the fate of previous civilizations.
Praise For Dirt: The Erosion of Civilizations…
"Insightfully chronicles the rise of agricultural technology and concomitant fall of soil depth just about everywhere in the world, from prehistoric to modern times. . . . More than a history lesson of the legacies of past civilizations, the book raises a critical concern for modern times. We are currently losing soil 20 times faster, on average, than it is being replaced through the natural process. To meet the demands for food and, more recently, energy, we need Montgomery's scholarly, historical perspective, as well as the ability to project current trends of land management to future scenarios."
— Nature

"Argues persuasively that soil is humanity's most essential natural resource and essentially linked to modern civilizations's survival. . . . Makes a convincing case for the need to respect and conserve the world's limited supply of soil."
— Publishers Weekly

"Fascinating insights into what be our most precious natural resource and gives important pointers toward sustainable land management."
— BioScience

"Unique perspective, sound research, and compelling narrative"
— Library Journal

"This dirt's-eye-view of history provides an interesting perspective on a vast range of topics, from the vanquishing commons and the rise of private estates in Europe to the drive to colonize the Americas, from slavery and the Industrial Revolution to floods and famines in nineteenth- and early-twentieth-century China. And no book on dirt can pass lightly over the Depression-era Dust Bowl or its lesser-know Soviet counterpart."
— Bookforum

"Sobering. . . . A timely text that will no doubt stimulate the discussion of this issue, and its potential solutions, for years to come."
— Environment & History

"A compelling study on soil: why we need it, how we have used and abused it, how we can protect it, and what happens when we let it slip through our fingers."
— New Scientist

"Tell(s) a story which we cannot afford to ignore. . . . Well and eloquently told."
— Financial Times

"Excellent, clearly written addition to the field. . . . Highly recommended."
— CHOICE

"Anyone interested in environmental issues should read this book. . . . Entertains and stimulates thought."
— Times Higher Education

"Makes fascinating bridges between geology, archeology, and history in studying the relationship between soils and civilizations."
— Journal of Soil and Water Conservation

"Montgomery has produced a fine study that cycles through history, builds on a series of case studies, and makes comparisons across significant periods of time--all of which make this book an enjoyable read . . . Historians who study the rise and fall of civilizations must acknowledge the important questions raised by Montgomery's ground-breaking work."
— H-Net Reviews

"Dirt jumps across geologic time and space and argues that how societies fare in the long run depends on how they treat their soils. Simple. Concise. You are your dirt."
— Hobby Farms

"Strengthen[s] appreciation for how important the soil is to our existence. . . . It is a must read for anyone who works with soil, and it should be of interest to all who care about our natural resources."
— Great Plains Research

"A compelling read. . . . Enlightening, well founded and thoroughly researched."
— Treehugger

"Timely. . . Strongly recommend[ed] for both the general public and the archeological community."
— Journal of Field Archaeology

"Sounds an ever timely and necessary clarion call for our generation at long last to stop exacerbating the abuses of the past and, wherever possible, to begin rectifying their dire consequences."
— Vadose Zone Journal

"This book provides a useful and engaging primer on the history of humanity's understanding of and relationship with soil."
— Isis

"A comprehensive and readable summary of how civilizations have depended on the half-meter of life-generating topsoil that mantles our continents."
— Geotimes
University of California Press, 9780520272903, 296pp.
Publication Date: April 10, 2012
About the Author
David R. Montgomery, Professor of Earth and Space Sciences at the University of Washington, is author of King of Fish: The Thousand-Year Run of Salmon.