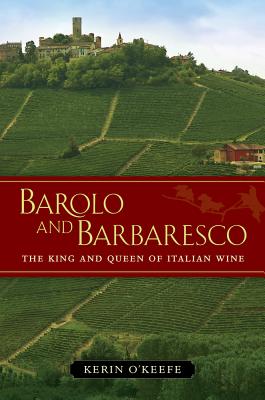 Barolo and Barbaresco
The King and Queen of Italian Wine
Hardcover

* Individual store prices may vary.
Description
Following on the success of her books on Brunello di Montalcino, renowned author and wine critic Kerin O'Keefe takes readers on a historic and in-depth journey to discover Barolo and Barbaresco, two of Italy's most fascinating and storied wines. In this groundbreaking new book, O'Keefe gives a comprehensive overview of the stunning side-by-side growing areas of these two world-class wines that are separated only by the city of Alba and profiles a number of the fiercely individualistic winemakers who create structured yet elegant and complex wines of remarkable depth from Italy's most noble grape, Nebbiolo.

A masterful narrator of the aristocratic origins of winemaking in this region, O'Keefe gives readers a clear picture of why Barolo is called both the King of Wines and the Wine of Kings. Profiles of key Barolo and Barbaresco villages include fascinating stories of the families, wine producers, and idiosyncratic personalities that have shaped the area and its wines and helped ignite the Quality Wine Revolution that eventually swept through all of Italy.

The book also considers practical factors impacting winemaking in this region, including climate change, destructive use of harsh chemicals in the vineyards versus the gentler treatments used for centuries, the various schools of thought regarding vinification and aging, and expansion and zoning of vineyard areas. Readers will also appreciate a helpful vintage guide to Barolo and Barbaresco and a glossary of useful Italian wine terms.
Praise For Barolo and Barbaresco: The King and Queen of Italian Wine…
"Barolo and Barbaresco is unique. . . . Although it is thorough and traditionally organized for the most part, her selection of newer, less-known, up and coming producers adds a creative touch that you don't find in most wine books. . . . O'Keefe's book is a tour de force, a magnificent, comprehensive tome that required loads of research."
— Wine Review Online

"Fundamental by approach and inspiring by content. It will be useful for anybody with interest in Italian wines and is likely to become the first point of reference for those who geniunely love and appreciate great wines of Piedmont."
— SpazioVino

"An essential reference, with an invaluable level of both narrative and detail."
— San Francisco Chronicle

"O'Keefe's breezy, often enthusiastic prose, combines solid background information with personal appraisals of many producers.  Kerin O'Keefe has written an informative work that will enlighten most readers to the beauty of these wines and the lofty goals of their producers. Barolo and Barbaresco brings the wines of kings and queens closer to an appreciative audience."
— International Wine Review

"Essential and timely. . . . Read the book. Pull some corks. And start plotting an itinerary for a visit to the region."
— Dr. Vino

"Anyone who loves the perfumes of Nebbiolo and the complexity and soulfulness of a mature bottle will enjoy this book."
— Wine Spectator

"Ms. O'Keefe, who wrote a similar guide to Brunello di Montalcino in 2012, is thorough and authoritative. She is a critic in the best sense of the word, not shy with her opinions, which she offers without polemics or bluster. This book is not for novices; readers are expected to have an understanding of how wine is farmed and produced. But for those who have delved into Barolo and Barbaresco and want to know more about where the wines are made, the people who make them and the differences in terroirs, this book is inspiring and essential." - The Best Wine Books of 2014
— Eric Asimov

"Barolo and Barbaresco. . .  had me reaching for words such as 'definitive' and even 'magisterial'. Don't let those rather pompous words put you off – it's a good read, too." - Books of the Year 2014
— The Independent

"An accessible and informed orientation to two of Italy's greatest wines . . . this book is a significant contribution to the English-language literature of Italian wine."
— CHOICE

"O'Keefe is a rare journalist who does the work to flesh out what 'sense of place' means. She goes out into the vineyards of the greatest wine region in Italy. Her hands and her boots are marked by the marl and the clay and the grasses. That dedication pours forth in her writing, which is neither ostentatious nor hesitant to focus on subtle-but-important differences of place."
— Palate Press

"[...] again the only advice I can give is, get the book. [...] Indeed, it's a very useful tome to have to hand: measured, informative and very readable. I thoroughly recommend it."
— World of Fine Wine
University of California Press, 9780520273269, 368pp.
Publication Date: October 17, 2014
About the Author
Kerin O'Keefe is the author of Brunello di Montalcino (UC Press, 2012) and of Franco Biondi Santi: The Gentleman of Brunello (Veronelli Editore, 2005). She is the Italian Editor for Wine Enthusiast magazine, and her numerous articles on Italian wine have been published in top industry publications, including The World of Fine Wine and Decanter.