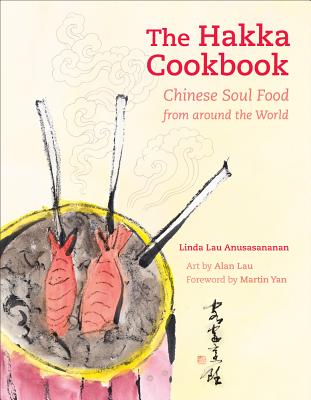 The Hakka Cookbook (Hardcover)
Chinese Soul Food from around the World
University of California Press, 9780520273283, 312pp.
Publication Date: October 8, 2012
* Individual store prices may vary.
Description
Veteran food writer Linda Lau Anusasananan opens the world of Hakka cooking to Western audiences in this fascinating chronicle that traces the rustic cuisine to its roots in a history of multiple migrations. Beginning in her grandmother's kitchen in California, Anusasananan travels to her family's home in China, and from there fans out to embrace Hakka cooking across the globe—including Hong Kong, Taiwan, Singapore, Malaysia, Canada, Peru, and beyond. More than thirty home cooks and chefs share their experiences of the Hakka diaspora as they contribute over 140 recipes for everyday Chinese comfort food as well as more elaborate festive specialties.

This book likens Hakka cooking to a nomadic type of "soul food," or a hearty cooking tradition that responds to a shared history of hardship and oppression. Earthy, honest, and robust, it reflects the diversity of the estimated 75 million Hakka living in China and greater Asia, and in scattered communities around the world—yet still retains a core flavor and technique. Anusasananan's deep personal connection to the tradition, together with her extensive experience testing and developing recipes, make this book both an intimate journey of discovery and an exciting introduction to a vibrant cuisine.


About the Author
Linda Lau Anusasananann was recipe editor and food writer for Sunset Magazine for 34 years. She also served as a special consultant to cookbooks such as Sunset Chinese, Sunset Oriental, Sunset Wok, Sunset Seafood, and Sunset Pasta. She was the president of the Association of Chinese Cooking Teachers and president of the San Francisco Chapter of Les Dames d'Escoffier. Artist Alan Lau wrote and illustrated Blues and Greens, a Produce Worker's Journal.
Praise For The Hakka Cookbook: Chinese Soul Food from around the World…
"A documentation of how a cuisine has adapted to its surroundings, a fusion food out of necessity. . . . Worth a read."
— Martha Cheng
"[A] fascinating journey. . . . [the book] offers a unique look at what has been called 'the Gypsy cuisine of China.'"
— John Lekich
"Cozy as a kitchen scrapbook, filled with recipes that simply work."
— The Cleaver Quarterly