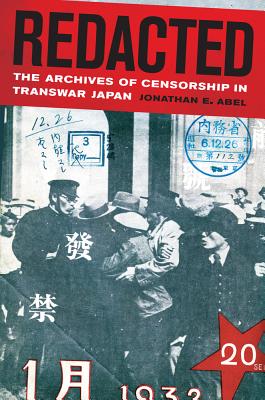 Redacted (Hardcover)
The Archives of Censorship in Transwar Japan (Asia Pacific Modern #11)
University of California Press, 9780520273344, 376pp.
Publication Date: September 13, 2012
* Individual store prices may vary.
Description
At the height of state censorship in Japan, more indexes of banned books circulated, more essays on censorship were published, more works of illicit erotic and proletarian fiction were produced, and more passages were Xed out than at any other moment before or since. As censors construct and maintain their own archives, their acts of suppression yield another archive, filled with documents on, against, and in favor of censorship. The extant archive of the Japanese imperial censor (1923-1945) and the archive of the Occupation censor (1945-1952) stand as tangible reminders of this contradictory function of censors. As censors removed specific genres, topics, and words from circulation, some Japanese writers converted their offensive rants to innocuous fluff after successive encounters with the authorities. But, another coterie of editors, bibliographers, and writers responded to censorship by pushing back, using their encounters with suppression as incitement to rail against the authorities and to appeal to the prurient interests of their readers. This study examines these contradictory relationships between preservation, production, and redaction to shed light on the dark valley attributed to wartime culture and to cast a shadow on the supposedly bright, open space of free postwar discourse. (Winner of the 2010-2011 First Book Award of the Weatherhead East Asian Institute, Columbia University" ).
About the Author
Jonathan Abel is Assistant Professor In the Department of Comparative Literature at Penn State University
Praise For Redacted: The Archives of Censorship in Transwar Japan (Asia Pacific Modern #11)…
"The book sets a new benchmark for scholarship on its subject. . . . Uncommon insight and rigor."
— Mark Schilling
"[An] original and important book. . . . Abel breaks new ground."
— Alexander Jacoby
"It is difficult to overestimate the path-breaking importance of this book or its broader ramifications for understanding the nature and problems of modern surveillance throughout the globe."
— Sebastian Swann
"There is much to love about Jonathan Abel's new book."
— Carla Nappi
"What makes Redacted appealing to a broad audience is its ambitious scope and the capacious intellect behind it."
— Kristen Cather
"Abel takes a more micro approach, with many detailed examples of the way specific texts were censored... [He] addresses several kinds of texts: literary manuscripts, bibliographies, censors' archives, and essays."
— The Journal of Japanese Studies
or
Not Currently Available for Direct Purchase