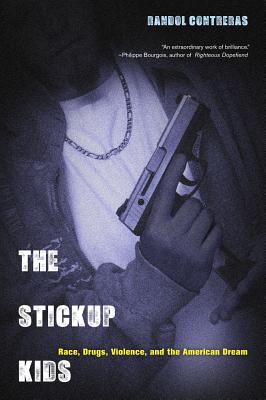 The Stickup Kids
Race, Drugs, Violence, and the American Dream
Paperback

* Individual store prices may vary.
Other Editions of This Title:
Hardcover (12/10/2012)
Description
Randol Contreras came of age in the South Bronx during the 1980s, a time when the community was devastated by cuts in social services, a rise in arson and abandonment, and the rise of crack-cocaine. For this riveting book, he returns to the South Bronx with a sociological eye and provides an unprecedented insider's look at the workings of a group of Dominican drug robbers. Known on the streets as "Stickup Kids," these men raided and brutally tortured drug dealers storing large amounts of heroin, cocaine, marijuana, and cash.

As a participant observer, Randol Contreras offers both a personal and theoretical account for the rise of the Stickup Kids and their violence. He mainly focuses on the lives of neighborhood friends, who went from being crack dealers to drug robbers once their lucrative crack market opportunities disappeared. The result is a stunning, vivid, on-the-ground ethnographic description of a drug robbery's violence, the drug market high life, the criminal life course, and the eventual pain and suffering experienced by the casualties of the Crack Era.

Provocative and eye-opening, The Stickup Kids urges us to explore the ravages of the drug trade through weaving history, biography, social structure, and drug market forces. It offers a revelatory explanation for drug market violence by masterfully uncovering the hidden social forces that produce violent and self-destructive individuals. Part memoir, part penetrating analysis, this book is engaging, personal, deeply informed, and entirely absorbing.


Praise For The Stickup Kids: Race, Drugs, Violence, and the American Dream…

"An important book. . . . Not your typical ethnography. . . . [This is] a story told from the inside out."
— Michael B. Greene
"Hard-hitting, gravitating, and reflexive . . . Dr. Contreras shines in providing readers a greater level of coomplexity and nuance to understand these experiences."
— Robert J. Duran
"At once a sensational, detailed, stomach-churning account of extreme violence and a sober, solid piece of social science research that makes a number of important contributions to our understanding of how violence is situated in structural, cultural, historical, and, especially, situational context. . . . finely wrought, first class social science . . . profound."
— Mercer L. Sullivan
"The Stickup Kids provides a unique insight for researchers, criminal justice representatives, advocates, and policy-makers who want to improve the overall well-being marginalized and segregated racial and ethnic minority communities. . . . A valuable addition."
— Journal of Criminal Justice Education
University of California Press, 9780520273382, 296pp.
Publication Date: December 10, 2012
About the Author
Randol Contreras is Assistant Professor of Sociology at the University of Toronto.