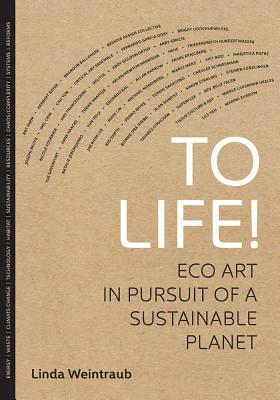 To Life!
Eco Art in Pursuit of a Sustainable Planet
Paperback

* Individual store prices may vary.
Description
To Life! Eco Art in Pursuit of a Sustainable Planet documents the burgeoning eco art movement from A to Z, presenting a panorama of artistic responses to environmental concerns, from Ant Farm's anti-consumer antics in the 1970s to Marina Zurkow's 2007 animation that anticipates the havoc wreaked upon the planet by global warming. This text is the first international survey of twentieth and twenty-first-century artists who are transforming the global challenges facing humanity and the Earth's diverse living systems. Their pioneering explorations are situated at today's cultural, scientific, economic, spiritual, and ethical frontiers. The text guides students of art, design, environmental studies, and interdisciplinary studies to integrate environmental awareness, responsibility, and activism into their professional and personal lives.
Praise For To Life!: Eco Art in Pursuit of a Sustainable Planet…
"An indispensable addition to fine art libraries, museum collections, and libraries focusing on environmental science and conservation. . . . Highly recommended."
— J. Decker, Georgetown College

"I believe this book will become an essential reference work for all those working as, or thinking of becoming, eco artists."
— Rob Harle

"This book is not only ideal for students but should also be essential reading for educators and curators alike."
— Penny Skerrett

"The book is a work of artist profiling and art theory, woven with clear and thoughtful insight. It belongs on the bookshelf of every intelligentsia."
— Allison Schulz

"To life! is thus offered to inspire more attempts to find ways out of our problems."
— Martin Spray
University of California Press, 9780520273627, 384pp.
Publication Date: September 1, 2012
About the Author
Linda Weintraub is author of Art on the Edge and Over: Searching for Art's Meaning in Contemporary Society; In the Making: Creative Options for Contemporary Art and Avant-Guardians: Textlets in Art and Ecology. The first book deciphered vanguard art for popular audiences; the second examined the unique challenges of contemporary art-making; the third introduced the material, thematic, and conceptual innovations being introduced by eco artists.