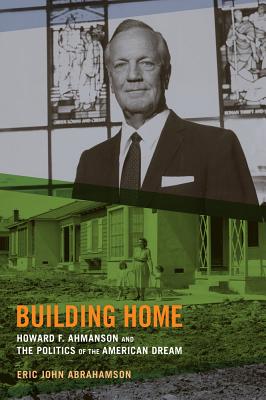 Building Home (Hardcover)
Howard F. Ahmanson and the Politics of the American Dream
University of California Press, 9780520273757, 368pp.
Publication Date: February 28, 2013
* Individual store prices may vary.
Description
Building Home is an innovative biography that weaves together three engrossing stories. It is one part corporate and industrial history, using the evolution of mortgage finance as a way to understand larger dynamics in the nation's political economy. It is another part urban history, since the extraordinary success of the savings and loan business in Los Angeles reflects much of the cultural and economic history of Southern California. Finally, it is a personal story, a biography of one of the nation's most successful entrepreneurs of the managed economy —Howard Fieldstad Ahmanson. Eric John Abrahamson deftly connects these three strands as he chronicles Ahmanson's rise against the background of the postwar housing boom and the growth of L.A. during the same period.

As a sun-tanned yachtsman and a cigar-smoking financier, the Omaha-born Ahmanson was both unique and representative of many of the business leaders of his era. He did not control a vast infrastructure like a railroad or an electrical utility. Nor did he build his wealth by pulling the financial levers that made possible these great corporate endeavors. Instead, he made a fortune by enabling the middle-class American dream. With his great wealth, he contributed substantially to the expansion of the cultural institutions in L.A. As we struggle to understand the current mortgage-led financial crisis, Ahmanson's life offers powerful insights into an era when the widespread hope of homeownership was just beginning to take shape.


About the Author
Eric John Abrahamson is co-author of Anytime, Anywhere: Entrepreneurship and the Creation of a Wireless World and founder and principal of Vantage Point History, a consulting firm that focuses on history, public policy and communications.
Praise For Building Home: Howard F. Ahmanson and the Politics of the American Dream…
"An impressive biography."
— Robert Bruegmann
"It's very easy to highly recommend Building Home . . . an interesting and uplifting read."
— John Tamny
"At heart, this is about a son surpassing his goal to earn back a family company lost when his father died, but Abrahamson's dense analyses make this study relevant to today's debates about how to fairly regulate the financial marketplace."
— Publishers Weekly
"Despite the nation's now-reluctant familiarity with mortgage finance, it can be a hard topic to warm up to. Reading Building Home, one not only warms to the subject, but also to the argument that big businesses and the government can work together for the public benefit."
— Kim Velsey
"Enjoyable storytelling."
— Martin Brower's Oc Report
"Ahmanson (who died in 1968) is remembered—if at all—through the cultural institutions he supported: the Los Angeles County Museum of Art and the Music Center. Abrahamson makes a compelling case that Ahmanson ought to be better remembered—positively and negatively—as a man who made much of Los Angeles."
— D. J. Waldie
"[Abrahamson] does an impressive job under difficult circumstances of documenting Ahmanson's life--warts and all. . . . Fascinating reading."
— William G. Hamm