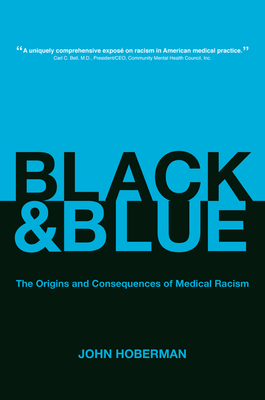 Black and Blue (Paperback)
The Origins and Consequences of Medical Racism
University of California Press, 9780520274013, 304pp.
Publication Date: April 3, 2012
Other Editions of This Title:
Hardcover (4/3/2012)
* Individual store prices may vary.
Description
Black & Blue is the first systematic description of how American doctors think about racial differences and how this kind of thinking affects the treatment of their black patients. The standard studies of medical racism examine past medical abuses of black people and do not address the racially motivated thinking and behaviors of physicians practicing medicine today.

Black & Blue penetrates the physician's private sphere where racial fantasies and misinformation distort diagnoses and treatments. Doctors have always absorbed the racial stereotypes and folkloric beliefs about racial differences that permeate the general population. Within the world of medicine this racial folklore has infiltrated all of the medical sub-disciplines, from cardiology to gynecology to psychiatry. Doctors have thus imposed white or black racial identities upon every organ system of the human body, along with racial interpretations of black children, the black elderly, the black athlete, black musicality, black pain thresholds, and other aspects of black minds and bodies. The American medical establishment does not readily absorb either historical or current information about medical racism. For this reason, racial enlightenment will not reach medical schools until the current race-aversive curricula include new historical and sociological perspectives.
About the Author
John Hoberman is the author of Darwin's Athletes: How Sport Has Damaged Black America, Preserved the Myth of Race, Mortal Engines: The Science of Performance and the Dehumanization of Sport, The Olympic Crisis: Sport, Politics, and the Moral Order, and Sport and Political Ideology.
Praise For Black and Blue: The Origins and Consequences of Medical Racism…
"[An] eye-opening work. . . . It is a pioneering, systematic study of racial issues in medicine/health care. . . . Highly recommended."
— A. Y. Lee, George Mason University
"The book comes at a perfect time. . . . Black & Blue goes where previous studies have not. . . . An unapologetic and systematic analysis."
— Bill Maxwell
"Black and Blue should be required reading for medical students and physicians. It is a passionate read."
— Kim Read, Reference and Instruction Librarian - Clark College
"[Those] who have an interest in the intersection of race and health should be introduced to Hoberman's comprehensive work on this thorny and important subject."
— Annelle B. Primm & Ezra E.H. Griffith