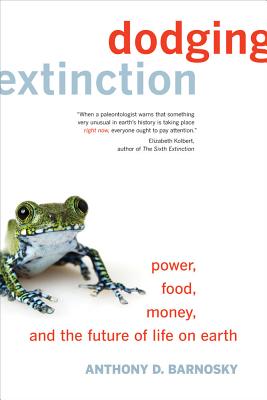 Dodging Extinction (Hardcover)
Power, Food, Money, and the Future of Life on Earth
University of California Press, 9780520274372, 256pp.
Publication Date: October 1, 2014
Other Editions of This Title:
Paperback (8/16/2016)
* Individual store prices may vary.
Description
Paleobiologist Anthony D. Barnosky weaves together evidence from the deep past and the present to alert us to the looming Sixth Mass Extinction and to offer a practical, hopeful plan for avoiding it. Writing from the front lines of extinction research, Barnosky tells the overarching story of geologic and evolutionary history and how it informs the way humans inhabit, exploit, and impact Earth today. He presents compelling evidence that unless we rethink how we generate the power we use to run our global ecosystem, where we get our food, and how we make our money, we will trigger what would be the sixth great extinction on Earth, with dire consequences.

Optimistic that we can change this ominous forecast if we act now, Barnosky provides clear-cut strategies to guide the planet away from global catastrophe. In many instances the necessary technology and know-how already exist and are being applied to crucial issues around human-caused climate change, feeding the world's growing population, and exploiting natural resources. Deeply informed yet accessibly written, Dodging Extinction is nothing short of a guidebook for saving the planet.
About the Author
Anthony D. Barnosky is a Professor in the Department of Integrative Biology, Curator in the Museum of Paleontology, and Research Paleoecologist in the Museum of Vertebrate Zoology at the University of California, Berkeley. He is the author of Heatstroke: Nature in an Age of Global Warming (Island Press) and editor of Biodiversity Response to Climate Change in the Middle Pleistocene (UC Press).
Praise For Dodging Extinction: Power, Food, Money, and the Future of Life on Earth…
"A superior synthesis of recent research from many scientific disciplines, this eloquent book could serve as a model for how scientists should write for nonspecialists about the critical environmental challenges of our time. An excellent companion to Elizabeth Kolbert's The Sixth Extinction."
— Library Journal
"A pragmatic approach to finding workable solutions to a looming crisis."
— Kirkus Reviews
"Powerful and passionate prose. . . . Time may be short, but this is a message of hope for readers looking for a better future."
— Publishers Weekly
"Beautifully written. . . . A very learned book, but it's very approachable and fun. . . .  Anyone who is interested in the future of the planet or loves animals should check this one out ." -Annalee Newitz, The Best Science Books of 2014
— Science Friday
"A rattling read and punchily packaged. Barnosky's prose is tight and accessible, and it lays the crisis on the line."
— New Scientist
"Well-written and accessible . . . Barnosky provides an informed perspective of Earth's past mass extinctions and the lessons that can be learned from them to understand the present crises . . . A must read for college students and a well-informed citizenry."
— C. A. McRoberts
"Barnosky provides a long list of things we need to do to move to more efficient energy use."
— Word & World
or
Not Currently Available for Direct Purchase