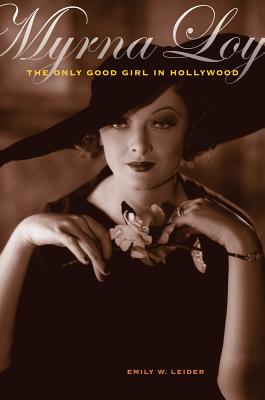 Myrna Loy
The Only Good Girl in Hollywood
Paperback

* Individual store prices may vary.
Other Editions of This Title:
Hardcover (10/3/2011)
Description
From the beginning, Myrna Loy's screen image conjured mystery, a sense of something withheld. "Who is she?" was a question posed in the first fan magazine article published about her in 1925. This first ever biography of the wry and sophisticated actress best known for her role as Nora Charles, wife to dapper detective William Powell in The Thin Man, offers an unprecedented picture of her life and an extraordinary movie career that spanned six decades. Opening with Loy's rough-and-tumble upbringing in Montana, the book takes us to Los Angeles in the 1920s, where Loy's striking looks caught the eye of Valentino, through the silent and early sound era to her films of the thirties, when Loy became a top box office draw, and to her robust post–World War II career. Throughout, Emily W. Leider illuminates the actress's friendships with luminaries such as Cary Grant, Clark Gable, and Joan Crawford and her collaborations with the likes of John Barrymore, David O. Selznick, Sam Goldwyn, and William Wyler, among many others. This highly engaging biography offers a fascinating slice of studio era history and gives us the first full picture of a very private woman who has often been overlooked despite her tremendous star power.
Praise For Myrna Loy: The Only Good Girl in Hollywood…
"A top-notch biography of a great performer. . . . Highly recommended."
— C. Rollyson
"A crisp, smart biography."
— Dennis Drabelle
"Loy's gifts are easy to enjoy, hard to describe. She's been lucky in attracting an even-tempered sympathetic biographer like Ms. Leider, whose book, like the best of its genre, sends you back to the films."
— Alexandra Mullen
"This is a must read for anyone who is a Myrna Loy fan."
— Leslie Wolfson
"In addition to thoroughly documenting each of Loy's films . . .the book describes her activities during the leave she took from filmmaking in the early 1940s."
— Betsy Butler
"Reveals the shy, warm, and modest figure behind the image of the cool, chic urbanite. . . . Leider's books are smart and witty trips through the lives of her subjects, and this work is no exception."
— Teri Shiel
"An engaging and heartening portrait of the classic movie star who never let the glamour of her impossibly glamorous profession go to her head."
— Dennis King
"An excellent biography."
— Scott Eyman
"Emily W. Leider has managed to give us the biography of an actress that avoids the crass tell-all format of many celebrity biographies—it is well researched, the prose is eminently readable. . . . It is a must read for fans of Myrna Loy, it will interest fans of film in general and classic film in particular, and it is also an interesting read from a purely historical perspective, thanks to the research put into it and its scholarly tone. Pick up the book and revisit these films."
— Miguel Rodriguez
"Movie buffs will appreciate the careful research that went into this book, while readers wanting intimacy will delight in hearing Myrna's own voice come through."
— Alicea Swett
"Well-researched and shrewdly conceived."
— Robert Fulford
"I've not wanted to put the book down. It's that good, yes, it is really THAT good. . . . If you're a fan of Myrna Loy and her films, this is a must read."
— Strictly Vintage Hollywood
"Kudos to author Emily Leider for a brilliant, riveting portrait. . . . 'Myrna Loy' is an encyclopedic, fascinating page-turner for film buffs."
— Nada Arnold
"Leider's new book is certainly one of the best film books of the year."
— Thomas Gladysz
"A well-researched and comprehensive biography. . . . Leider's portrait nicely details Myrna Loy as not only a movie star but also an ardent activist."
— Publishers Weekly
"Leider . . . has penned a thoroughly researched and stylishly written biography of an accomplished actress who was more than just her screen credits."
— Thomas Gladysz
"Leider . . . has penned a thoroughly researched and stylishly written biography of an accomplished actress who was more than just her screen credits."
— Thomas Gladysz
University of California Press, 9780520274501, 424pp.
Publication Date: October 3, 2011
About the Author
Biographer, poet, and memoirist Emily W. Leider is the author of Dark Lover: The Life and Death of Rudolph Valentino, Becoming Mae West, and Rapid Eye Movement and Other Poems, among other books.