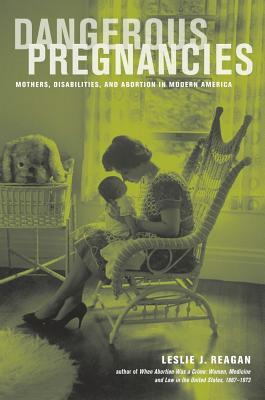 Dangerous Pregnancies (Paperback)
Mothers, Disabilities, and Abortion in Modern America
University of California Press, 9780520274570, 392pp.
Publication Date: July 9, 2012
Other Editions of This Title:
Hardcover (2/15/2010)
* Individual store prices may vary.
Description
Dangerous Pregnancies tells the largely forgotten story of the German measles epidemic of the early 1960s and how it created national anxiety about dying, disabled, and "dangerous" babies. This epidemic would ultimately transform abortion politics, produce new science, and help build two of the most enduring social movements of the late twentieth century--the reproductive rights and the disability rights movements. At most a minor rash and fever for women, German measles (also known as rubella), if contracted during pregnancy, could result in miscarriages, infant deaths, and serious birth defects in the newborn. Award-winning writer Leslie J. Reagan chronicles for the first time the discoveries and dilemmas of this disease in a book full of intimate stories--including riveting courtroom testimony, secret investigations of women and doctors for abortion, and startling media portraits of children with disabilities. In exploring a disease that changed America, Dangerous Pregnancies powerfully illuminates social movements that still shape individual lives, pregnancy, medicine, law, and politics.
About the Author
Leslie J. Reagan is Professor of History, with affiliations in gender and women's studies, law, media and cinema studies, and medicine, at the University of Illinois, Urbana-Champaign. She is the author of When Abortion Was a Crime: Women, Medicine, and Law in the United States 1867-1973 (UC Press) and coeditor of Medicine's Moving Pictures: Medicine, Health, and Bodies in American Film and Television.
Praise For Dangerous Pregnancies: Mothers, Disabilities, and Abortion in Modern America…
"From the German measles epidemic of the early 1960s to the thalidomide tragedy, Reagan demonstrates the evolution of reproductive rights and abortion, uncovering the ethical issues (on personal and societal levels) faced by mothers carrying potentially ill or disabled children. She explains the scientific, political, and social implications of this issue, crediting this discussion for the rise of the reproductive rights and disability movements. She also examines society's fearful reception of disability. Previously confidential, unpublished court cases and individual accounts add to the uniqueness of Reagan's historical angle."
— Foreword
"Ultimately inspiring story that should be required reading for anyone who doubts the benefits of vaccines."
— Jo Marchant,
"Fascinating."
— Mary Devereux,
"Powerfully moving, historically precise, and politically relevant, Dangerous Pregnancies combats the misogynist implications underlying currently proposed policies—implications that women terminate pregnancies without cognizance of their own physical and mental health or that of their fetus."
— American Studies
"Its historical approach lays the groundwork for future understandings of the fears and other emotions aroused by diseases, particularly for marginalized populations and/or during an epidemic."
— Bioethical Inquiry
"...an illuminating and sensitive biography of one of the twentieth century's forgotten diseases, and an important read for scholars interested in the histories of abortion and disability."
— Social History of Medicine
"Reagan, author of the award-winning monograph When Abortion Was a Crime, once again demonstrates her skill at analyzing legal records and court cases to reveal how Americans experienced reproductive politics before Roe v. Wade. Dangerous Pregnancies builds on her earlier work to suggest how ideas about disability, disease, and the law heightened the anxiety of pregnant mothers."
— Journal of the History of Sexuality
"The key points relating to the role of the rubella epidemic [give] a new understanding of events that occurred long ago and are useful reminders that disease and vaccination have social impacts as well as medical significance."
— Nature Medicine