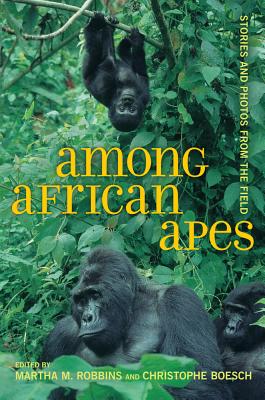 Among African Apes
Stories and Photos from the Field
Paperback

* Individual store prices may vary.
Other Editions of This Title:
Hardcover (6/13/2011)
Description
These compelling stories and photographs take us to places like Bwindi Impenetrable National Park in Uganda, Ivindo National Park in Gabon, and the Taï National Park in Côte d'Ivoire for an intimate and revealing look at the lives of African wild apes—and at the lives of the humans who study them. In tales of adventure, research, and conservation, veteran field researchers and conservationists describe exciting discoveries made over the past few decades about chimpanzees, bonobos, and gorillas. The book features vivid descriptions of interactions among these highly intelligent creatures as they hunt, socialize, and play. More difficult themes emerge as well, including the threats apes face from poaching, disease, and deforestation. In stories that are often moving and highly personal, this book takes measure of how special the great apes are and discusses positive conservation efforts, including ecotourism, that can help bring these magnificent animals back from the brink of extinction.
Praise For Among African Apes: Stories and Photos from the Field…
"Gives a fresh insight into research and conservation efforts . . . vivid descriptions reveal how chimpanzees, bonobos and gorillas hunt, socialize and play in their natural habitat, as well as the threats they face from poaching, disease and deforestation."
— Nature
"If you like to think of chimps as wise, rational tool-users, gorillas as gentle giants, or bonobos as sexed-up hippie apes, be prepared for a shock. Among African Apes, a collection of field diaries, is primatology given the Tarantino treatment."
— Rowan Hooper
"Compelling."
— Ian Paulsen
"Awe and surprise come through these stories of seasoned field scientists learning new things."
— Nancy Bent
"An excellent introduction to the world of primates."
— K. K. Golbeck
"Illuminating collection of essays."
— Foreword
University of California Press, 9780520274594, 200pp.
Publication Date: June 13, 2011
About the Author
Martha M. Robbins is Research Associate at the Max Planck Institute for Evolutionary Anthropology. She is coeditor of Mountain Gorillas: Three Decades of Research at Karisoke and Feeding Ecology of Apes and Other Primates. Christophe Boesch is Director of the Department of Primatology at the Max Planck Institute for Evolutionary Anthropology. He is the author of The Real Chimpanzee: Sex Strategies in the Forest, among other books.