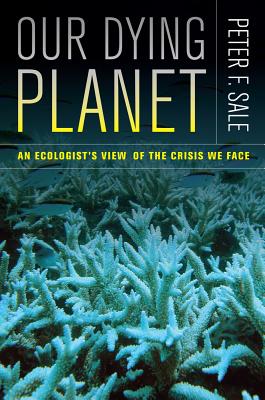 Our Dying Planet
An Ecologist's View of the Crisis We Face
Paperback

* Individual store prices may vary.
Description
Coral reefs are on track to become the first ecosystem actually eliminated from the planet. So says leading ecologist Peter F. Sale in this crash course on the state of the planet. Sale draws from his own extensive work on coral reefs, and from recent research by other ecologists, to explore the many ways we are changing the earth and to explain why it matters. Weaving into the narrative his own firsthand field experiences around the world, Sale brings ecology alive while giving a solid understanding of the science at work behind today's pressing environmental issues. He delves into topics including overfishing, deforestation, biodiversity loss, use of fossil fuels, population growth, and climate change while discussing the real consequences of our growing ecological footprint. Most important, this passionately written book emphasizes that a gloom-and-doom scenario is not inevitable, and as Sale explores alternative paths, he considers the ways in which science can help us realize a better future.
Praise For Our Dying Planet: An Ecologist's View of the Crisis We Face…
"Sale brings ecology alive while giving a solid understanding of the science at work behind today's pressing environmental issues. . . . A must-read for those that care about the planet Earth."
— Ian Paulsen

"Sale provides a solid introduction to the study of ecology, simultaneously making readers comfortable with the science at hand and stressing the need to address collapsing ecosystems."
— Robin K. Dillow

"A deeply researched and clear-eyed call to arms."
— Richard P. Grant

"Sale provides much food for thought in this provocative look at a hotly debated subject."
— Kirkus Reviews

Thorough, balanced and state of the art. . . . A Powerful, multifaceted, vivid analysis of human-induced environmental change. . . . A rewarding read."
— Matthias Schaefer

"[Sale's] prose and storytelling are engaging and flow well, and many complex concepts are well explained. . . . Instructive and intriguing."
— Erle C. Ellis, University of Maryland

"Sale has a gift for accurately observing and communicating complex scientific concepts to nonscientists; any adult with a high school education can understand and appreciate this work. . . . Highly recommended."
— D. Flaspohler

"Full of nasty surprises. . . . an important book about the future of life on a warmer earth."
— Jan McGirk

"There is a delicate balance between showing the true complexity of environmental problems and keeping the science of these fields accessible to non-scientists. It is a balance that Sale, for the most part, navigates deftly."
— Ashley Titterton
University of California Press, 9780520274600, 360pp.
Publication Date: September 12, 2011
About the Author
Peter F. Sale is Assistant Director, Institute for Water, Environment, and Health at United Nations University and University Professor Emeritus at the University of Windsor in Ontario, Canada. He is the author of The Ecology of Fishes on Coral Reefs, Coral Reef Fishes, and Marine Metapopulations.