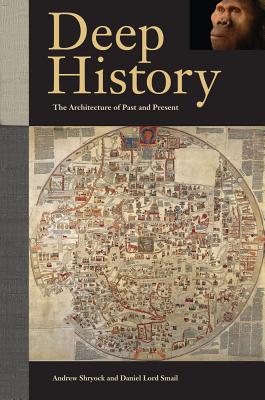 Deep History (Paperback)
The Architecture of Past and Present
University of California Press, 9780520274624, 360pp.
Publication Date: November 7, 2011
Other Editions of This Title:
Hardcover (11/7/2011)
* Individual store prices may vary.
Description
Humans have always been interested in their origins, but historians have been reluctant to write about the long stretches of time before the invention of writing. In fact, the deep past was left out of most historical writing almost as soon as it was discovered. This breakthrough book, as important for readers interested in the present as in the past,brings science into history to offer a dazzling new vision of humanity across time. Team-written by leading experts in a variety of fields, it maps events, cultures, and eras across millions of years to present a new scale for understanding the human body, energy and ecosystems, language, food, kinship, migration, and more. Combining cutting-edge social and evolutionary theory with the latest discoveries about human genes, brains, and material culture, Deep History invites scholars and general readers alike to explore the dynamic of connectedness that spans all of human history.

With Timothy Earle, Gillian Feeley-Harnik, Felipe Fernández-Armesto, Clive Gamble, April McMahon, John C. Mitani, Hendrik Poinar, Mary C. Stiner, and Thomas R. Trautmann


About the Author
Andrew Shryock is Associate Professor of Anthropology at the University of Michigan. He is the author of Nationalism and the Genealogical Imagination: Oral History and Textual Authority in Tribal Jordan (UC Press) winner of the Middle Eastern Studies Association's Albert Hourani Award, among other books. Daniel Lord Smail is Professor of History at Harvard University. Among his books is On Deep History and the Brain, (UC Press) a finalist for the Los Angeles Times Book Prize in Science and Technology.
Praise For Deep History: The Architecture of Past and Present…
"The goal of this project is to question old narrative elements of human evolution and discuss new ones. . . . In practice, this means the book is about some of the cleverest people in the field having fun with ideas."
— John Robb
"A different kind of historical writing . . . it offers general readers a thought-provoking approach to language, the brain, genes, exchange and other human faculties."
— Wendy Iraheta
"The chapters are perceptive . . . in their arguments. . . . Something that is long overdue."
— Journal Of Interdisciplinary History
"Recommended."
— L. L. Johnson
"A volume of great significance, bringing fresh insight, focus, and shape to our understanding of the dynamic connectedness that spans the entirety of human history. . . . . The calibre of contributors is exceptional and Andrew Shryock and Daniel Lord Smail should be congratulated for assembling the line-up whilst also fostering the volume's collaborative character."
— Jrai
"By envisioning nothing less than a complete account of the human experience, it stakes out a new frontier for historical consciousness that is as welcome as it is timely."
— American Historical Review
"An impressive—at times dazzling—array of data, summaries of literature, and conceptual elements, clearly pooling the specialized knowledges of the various contributors. . . . This is a rich tour of a vast terrain."
— Science & Society