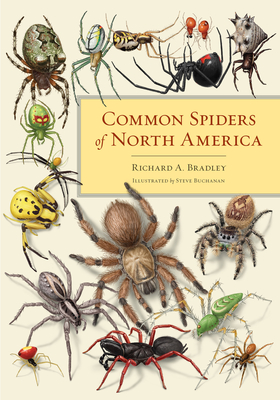 Common Spiders of North America (Hardcover)
University of California Press, 9780520274884, 288pp.
Publication Date: December 18, 2012
Other Editions of This Title:
Paperback (10/15/2019)
* Individual store prices may vary.
Description
Spiders are among the most diverse groups of terrestrial invertebrates, yet they are among the least studied and understood. This first comprehensive guide to all 68 spider families in North America beautifully illustrates 469 of the most commonly encountered species. Group keys enable identification by web type and other observable details, and species descriptions include identification tips, typical habitat, geographic distribution, and behavioral notes. A concise illustrated introduction to spider biology and anatomy explains spider relationships. This book is a critical resource for curious naturalists who want to understand this ubiquitous and ecologically critical component of our biosphere.
About the Author
Richard Bradley is Associate Professor Emeritus in the Department of Evolution, Ecology, and Organismal Biology at The Ohio State University. He earned his Ph.D. in Biology at the University of New Mexico, studying the population biology of scorpions, and has been an active researcher and teacher since 1972, publishing on the behavior and ecology of birds, scorpions, and spiders.
Praise For Common Spiders of North America…
"People with an interest in North American spiders should enjoy this book."
— Ian Paulsen
"This is a fabulous book, worthy of a place on the bookshelves of any arachnological library."
— David Penney
"High quality." "We only wish we had had access to this book when we were first learning the sometimes difficult art of spider identification."
— Paula E. Cushing
"A critical resource for curious naturalists."
— Northeastern
"Bradley's admiration of and attention to these animals is evident. . . The result is not only a remarkable compendium of information about conspicuous spiders in North America, but a gateway to their study and appreciation."
— Paula E. Cushing