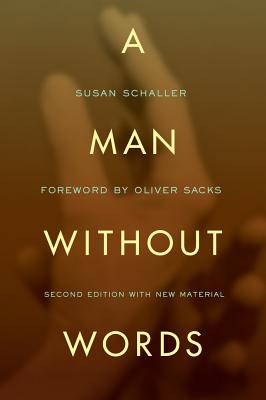 A Man Without Words
Paperback

* Individual store prices may vary.
Description
For more than a quarter of a century, Ildefonso, a Mexican Indian, lived in total isolation, set apart from the rest of the world. He wasn't a political prisoner or a social recluse, he was simply born deaf and had never been taught even the most basic language. Susan Schaller, then a twenty-four-year-old graduate student, encountered him in a class for the deaf where she had been sent as an interpreter and where he sat isolated, since he knew no sign language. She found him obviously intelligent and sharply observant but unable to communicate, and she felt compelled to bring him to a comprehension of words. The book vividly conveys the challenge, the frustrations, and the exhilaration of opening the mind of a congenitally deaf person to the concept of language. This second edition includes a new chapter and afterword.


University of California Press, 9780520274914, 220pp.
Publication Date: August 1, 2012
About the Author
Susan Schaller is a teacher of American Sign Language affiliated with the World Federation of the Deaf and the founder of In the Name of Deaf Adults (NaDA).

Oliver Sacks is a physician, best-selling author and professor of neurology and psychiatry at Columbia University Medical Center. He has written ten books, including The Man Who Mistook His Wife for a Hat and Musicophilia: Tales of Music and the Brain.