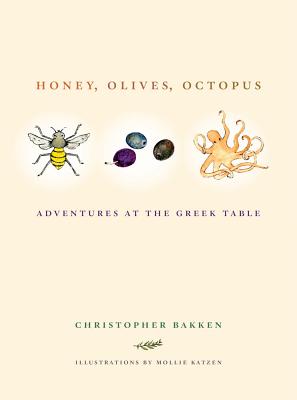 Honey, Olives, Octopus (Hardcover)
Adventures at the Greek Table
University of California Press, 9780520275096, 256pp.
Publication Date: March 26, 2013
* Individual store prices may vary.
Description
Combining the best of memoir, travel literature, and food writing, Christopher Bakken delves into one of the most underappreciated cuisines in Europe in this rollicking celebration of the Greek table. He explores the traditions and history behind eight elements of Greek cuisine—olives, bread, fish, cheese, beans, wine, meat, and honey—and journeys through the country searching for the best examples of each. He picks olives on Thasos, bakes bread on Crete, eats thyme honey from Kythira with one of Greece's greatest poets, and learns why Naxos is the best place for cheese in the Cyclades. Working with local cooks and artisans, he offers an intimate look at traditional village life, while honoring the conversations, friendships, and leisurely ceremonies of dining around which Hellenic culture has revolved for thousands of years. A hymn to slow food and to seasonal and sustainable cuisine, Honey, Olives, Octopus is a lyrical celebration of Greece, where such concepts have always been a simple part of living and eating well.
About the Author
Christopher Bakken is Frederick F. Seely Professor of English at Allegheny College.  He is the author of three books of poetry: After Greece, Goat Funeral, and the forthcoming Eternity & Oranges. His poems, essays, and translations have been published widely in the U.S. and Europe.
Praise For Honey, Olives, Octopus: Adventures at the Greek Table…
"A well-informed, sustained paean to the joys not only of the Greek table but also to the landscape of the country. . . .  Clearly and evocatively written, informative, well-paced, vivid, hunger-inducing - as well as sometimes, as the dark undertow exerts its pull, very poignant."
— New Criterion
"The title of this enjoyable book is somewhat modest in its claims as it does not hint at the breadth of knowledge and understanding of Greek culture, past and present, that Christopher Bakken brings to bear on his exploration of Greek food … there is much to commend in this engaging and enthusiastic discourse on all things Greek."
— Jane Stewart