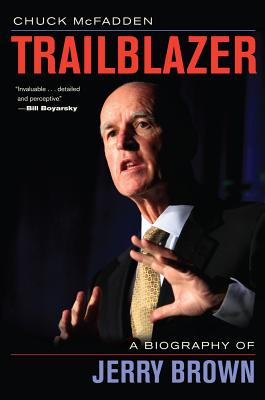 Trailblazer (Hardcover)
A Biography of Jerry Brown
University of California Press, 9780520275638, 248pp.
Publication Date: May 6, 2013
* Individual store prices may vary.
Description
In this first biography of Edmund Gerald Brown Jr. in more than thirty years, Chuck McFadden explores the unique persona of one of the most idiosyncratic politicians in California history. Son of California political royalty who forged his own political style against the tumultuous backdrop of a huge, balkanized state—and shoved to and fro by complex currents—Jerry Brown plumbed his visionary impulses as well as his grandiose ambitions. McFadden traces Brown's childhood in San Francisco, his time studying for the priesthood, his unusual political career, and his romances—including a long-term relationship with singer Linda Ronstadt. He describes Brown's first two terms as governor advocating for farm workers, women and minorities, his time roaming the world in a spiritual quest, and his return to the gritty world of politics as chairman of the California Democratic Party and then mayor of Oakland. Political experts weigh in with thoughts about the remarkable 2010 campaign that saw the 72-year-old Brown winning his third term in office while being vastly outspent by Republican Meg Whitman. Concise, insightful, and enlivened by the events and personalities that colored the history of California, Trailblazer provides an intimate portrait of the pugnacious, adept politician who has bucked national trends to become a leader of one of the largest economies in the world.
About the Author
Chuck McFadden is a veteran AP reporter who covered California politics in Sacramento for many years. He was also assistant to former CA State Superintendent of Public Instruction Wilson Riles.
Praise For Trailblazer: A Biography of Jerry Brown…
"As thoughtful and concise an assessment of this enigma [Jerry Brown] as we're likely to get for a long time."
— Peter Schrag
"This examination of the qualities behind Brown's longevity . . . is valuable reading for Californians and non-Californians as the nation finds itself a prisoner of conventional politics, stale thinking and tedious political rhetoric."
— Bill Boyarsky
"An insightful look at a paradoxical political figure in the nation's most populous and politically influential state."
— Booklist
"While McFadden's 180 pages would need to be tripled in length to cover Brown's long career, I have read two other Brown bios and Trailblazer is now the best work available."
— Randy Shaw
or
Not Currently Available for Direct Purchase