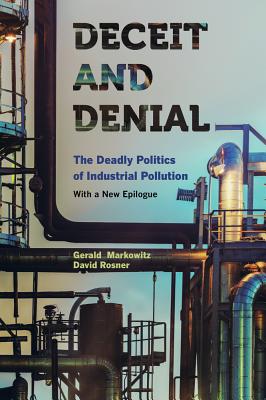 Deceit and Denial
The Deadly Politics of Industrial Pollution (California/Milbank Books on Health and the Public)
Paperback

* Individual store prices may vary.
Other Editions of This Title:
Paperback (10/10/2002)
Description
Deceit and Denial details the attempts by the chemical and lead industries to deceive Americans about the dangers that their deadly products present to workers, the public, and consumers. Gerald Markowitz and David Rosner pursued evidence steadily and relentlessly, interviewed the important players, investigated untapped sources, and uncovered a bruising story of cynical and cruel disregard for health and human rights. This resulting exposé is full of startling revelations, provocative arguments, and disturbing conclusions--all based on remarkable research and information gleaned from secret industry documents.

This book reveals for the first time the public relations campaign that the lead industry undertook to convince Americans to use its deadly product to paint walls, toys, furniture, and other objects in America's homes, despite a wealth of information that children were at risk for serious brain damage and death from ingesting this poison. This book highlights the immediate dangers ordinary citizens face because of the relentless failure of industrial polluters to warn, inform, and protect their workers and neighbors. It offers a historical analysis of how corporate control over scientific research has undermined the process of proving the links between toxic chemicals and disease. The authors also describe the wisdom, courage, and determination of workers and community members who continue to voice their concerns in spite of vicious opposition. Readable, ground-breaking, and revelatory, Deceit and Denial provides crucial answers to questions of dangerous environmental degradation, escalating corporate greed, and governmental disregard for its citizens' safety and health.

After eleven years, Markowitz and Rosner update their work with a new epilogue that outlines the attempts these industries have made to undermine and create doubt about the accuracy of the information in this book.




Praise For Deceit and Denial: The Deadly Politics of Industrial Pollution (California/Milbank Books on Health and the Public)…
"This ably written book makes a strong case for a precautionary approach toward the regulation of toxic hazards."
— The Lancet

"Chronicles the history of poisoning by environmental lead and vinyl chloride. . . . [The book shows] how that the lead industry in the United States was well aware of the hazard decades before the publication of the article by Byers and Lord but chose to respond to it primarily as a public-relations problem."
— New England Journal of Medicine

"Like any solid work of history, Deceit and Denial stands on the strength of its evidence and argument. Rosner and Markowitz marshal a devastating case, and the overarching question of culpability gives their account a narrative power and an analytical precision too often missing in historical scholarship."
— Reviews in History

"Provides a most readable narrative history. . . . Even for those unfamiliar with the players, this is a riveting account that can convey a better understanding of the complex influences of corporate-government interactions and the cost to health."
— JAMA: The Journal of the American Medical Association

"An important work . . . A wonderful depiction of the difficulty of combating a well-funded corporate culture."
— Enterprise & Society

"The authors . . . write authoritatively and persuasively, marshaling an impressive array of sources. . . . It raises numerous issues related to the manufacture and marketing of potentially toxic products. The book has potential as a [course] text."
— Technology and Culture

"Twenty of the biggest chemical companies in the United States have launched a campaign to discredit two historians who have studied the industry's efforts to conceal links between their products and cancer. In an unprecedented move, attorneys for Dow, Monsanto, Goodrich, Goodyear, Union Carbide and others have subpoenaed and deposed five academics who recommended that the University of California Press publish the book Deceit and Denial: The Deadly Politics of Industrial Pollution, by Gerald Markowitz and David Rosner. The companies have also recruited their own historian to argue that Markowitz and Rosner have engaged in unethical conduct. Markowitz is a professor of history at the CUNY Grad Center; Rosner is a professor of history and public health at Columbia University and director of the Center for the History and Ethics of Public Health at Columbia's School of Public Health."
— The Nation
University of California Press, 9780520275829, 446pp.
Publication Date: January 15, 2013
About the Author
Gerald Markowitz is Professor of History at John Jay College and the Graduate Center of the City University of New York. David Rosner is Professor of History and Public Health at Columbia University and Director of the Center for the History and Ethics of Public Health at Columbia's Mailman School of Public Health. They are coauthors of Children, Race, and Power: Kenneth and Mamie Clark's Northside Center (1996) and Deadly Dust: Silicosis and the Politics of Occupational Disease in Twentieth Century America (1994). They are coeditors of Dying for Work: Safety and Health in the United States (1987) and Slaves of the Depression: Workers' Letters about Life on the Job (1987).