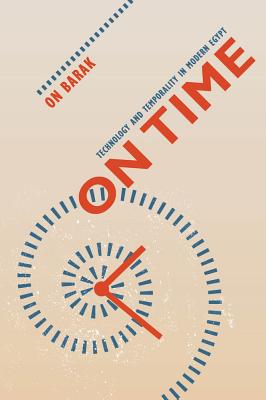 On Time (Paperback)
Technology and Temporality in Modern Egypt
University of California Press, 9780520276147, 360pp.
Publication Date: July 19, 2013
Other Editions of This Title:
Hardcover (7/19/2013)
* Individual store prices may vary.
Description
In this pioneering history of transportation and communication in the modern Middle East, On Barak argues that contrary to accepted wisdom technological modernity in Egypt did not drive a sense of time focused on standardization only. Surprisingly, the introduction of the steamer, railway, telegraph, tramway, and telephone in colonial Egypt actually triggered the development of unique timekeeping practices that resignified and subverted the typical modernist infatuation with expediency and promptness. These countertempos, predicated on uneasiness over "dehumanizing" European standards of efficiency, sprang from and contributed to non-linear modes of arranging time.

Barak shows how these countertempos formed and developed with each new technological innovation during the nineteenth and early twentieth centuries, contributing to a particularly Egyptian sense of time that extends into the present day, exerting influence over contemporary political language in the Arab world. The universal notion of a modern mechanical standard time and the deviations supposedly characterizing non-Western settings "from time immemorial," On Time provocatively argues, were in fact mutually constitutive and mutually reinforcing.


About the Author
On Barak is Senior Lecturer in Middle Eastern history at Tel Aviv University. He is the author of Names Without Faces: From Polemics to Flirtation in Islamic Chat-room Nick-naming (Uppsala University Press, 2006).
Praise For On Time: Technology and Temporality in Modern Egypt…
"A book of impeccable scholarship."
— Robert L. Tignor
"On Time provides a fascinating read, rich with vivid historical accounts that make the author's arguments all the more striking and memorable."
— Yulia Frumer