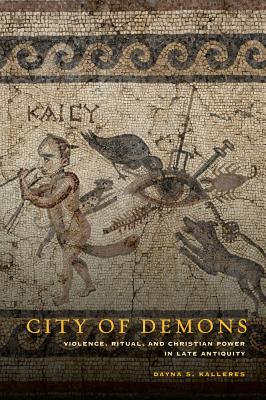 City of Demons (Hardcover)
Violence, Ritual, and Christian Power in Late Antiquity
University of California Press, 9780520276475, 392pp.
Publication Date: October 13, 2015
* Individual store prices may vary.
Description
Although it would appear in studies of late antique ecclesiastical authority and power that scholars have covered everything, an important aspect of the urban bishop has long been neglected: his role as demonologist and exorcist. When the emperor Constantine made Christianity the official religion of the realm, bishops and priests everywhere struggled  to "Christianize" the urban spaces still dominated by Greco-Roman monuments and festivals. During this period of upheaval, when congregants seemingly attended everything but their own "orthodox" church, many ecclesiastical leaders began simultaneously to promote aggressive and insidious depictions of the demonic. In City of Demons, Dayna S. Kalleres investigates this developing discourse and the church-sponsored rituals that went along with it, showing how shifting ecclesiastical demonologies and evolving practices of exorcism profoundly shaped Christian life in the fourth century.
About the Author
Dayna S. Kalleres is Assistant Professor of Early Christianity at the University of California, San Diego.
Praise For City of Demons: Violence, Ritual, and Christian Power in Late Antiquity…
"City of Demons is a profoundly learned work that aims to address the widely studied issue of urban ecclesiastical leadership with a fresh approach; the critical apparatus and the number and consistency of references are impressive."
— Magic, Ritual, and Witchcraft
"The City of Demons is a deep study and its author does not shy away from arguing against established academic theories . . . Kalleres innovatively evaluates historical, religious studies and anthropological data, which help to understand the Christian worldview of the post-Constantine era."
— Reading Religion