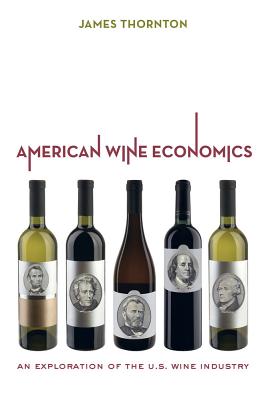 American Wine Economics (Hardcover)
An Exploration of the U.S. Wine Industry
University of California Press, 9780520276499, 368pp.
Publication Date: September 18, 2013
* Individual store prices may vary.
Description
The U.S. wine industry is growing rapidly and wine consumption is an increasingly important part of American culture. American Wine Economics is intended for students of economics, wine professionals, and general readers who seek to gain a unified and systematic understanding of the economic organization of the wine trade.

The wine industry possesses unique characteristics that make it interesting to study from an economic perspective. This volume delivers up-to-date information about complex attributes of wine; grape growing, wine production, and wine distribution activities; wine firms and consumers; grape and wine markets; and wine globalization. Thornton employs economic principles to explain how grape growers, wine producers, distributors, retailers, and consumers interact and influence the wine market. The volume includes a summary of findings and presents insights from the growing body of studies related to wine economics.

Economic concepts, supplemented by numerous examples and anecdotes, are used to gain insight into wine firm behavior and the importance of contractual arrangements in the industry. Thornton also provides a detailed analysis of wine consumer behavior and what studies reveal about the factors that dictate wine-buying decisions.


About the Author
James Thornton is Professor of Economics at Eastern Michigan University. He publishes in Applied Economics and other journals and is a member of the American Association of Wine Economists and the American Economic Association.
Praise For American Wine Economics: An Exploration of the U.S. Wine Industry…
If you have an interest in pushing deeper into the academic side of wine economics, this is a good place to begin.
— Mike Veseth

"A masterful job. This is a fine piece of work, covering a myriad of topics through the eyes of an economist."
— California Grapevine
"A fascinating study that shines a light on the wine industry's economic importance, how it is structured, government regulation, and the various wine companies who make up the industry."
— Paul O'Doherty
"A comprehensive, economic assessment of wine and the wine industry in America."
— International Wine Review Blog
"This book should be at the top of your 'to read' list."
— Bob Walch