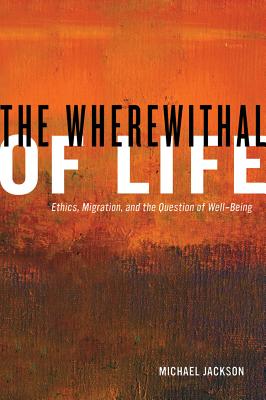 The Wherewithal of Life
Ethics, Migration, and the Question of Well-Being
Paperback

* Individual store prices may vary.
Other Editions of This Title:
Hardcover (8/10/2013)
Description
The Wherewithal of Life engages with current developments in the anthropology of ethics and migration studies to explore in empirical depth and detail the life experiences of three young men – a Ugandan migrant in Copenhagen, a Burkina Faso migrant in Amsterdam, and a Mexican migrant in Boston – in ways that significantly broaden our understanding of the existential situations and ethical dilemmas of those migrating from the global south. Michael Jackson offers the first biographically based phenomenological account of migration and mobility, providing new insights into the various motives, tactics, dilemmas, dreams, and disappointments that characterize contemporary migration. It is argued that the quandaries of African or Mexican migrants are not unique to people moving between 'traditional' and 'modern' worlds. While more intensely felt by the young, seeking to find a way out of a world of limited opportunity and circumscribed values, the experiences of transition are familiar to us all, whatever our age, gender, ethnicity or social status – namely, the impossibility of calculating what one may lose in leaving a settled life or home place; what one may gain by risking oneself in an alien environment; the difficulty of striking a balance between personal fulfillment and the moral claims of kinship; and the struggle to know the difference between 'concrete' and 'abstract' utopias (the first reasonable and worth pursuing; the second hopelessly unattainable).
Praise For The Wherewithal of Life: Ethics, Migration, and the Question of Well-Being…
"Reading this book transported me, in ways that few academic texts can . . . Jackson's insightful analysis is woven into the life-stories, his thesis permeating the whole text . . . The Wherewithal of Life is anthropology of migration par excellence."
— Luke de Noronha
University of California Press, 9780520276727, 272pp.
Publication Date: August 10, 2013
About the Author
Michael Jackson is an anthropologist and Distinguished Professor of World Religions at Harvard Divinity School. His many anthropological books include Existential Anthropology, The Palm at the End of the Mind, and The Other Shore. He is the author and editor of over thirty books.