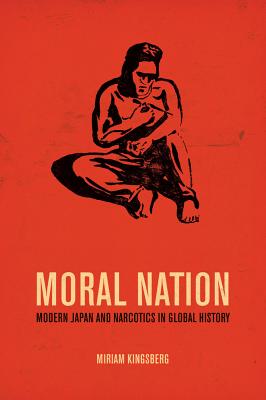 Moral Nation (Hardcover)
Modern Japan and Narcotics in Global History (Asia: Local Studies / Global Themes #29)
University of California Press, 9780520276734, 328pp.
Publication Date: December 7, 2013
* Individual store prices may vary.
Description
This trailblazing study examines the history of narcotics in Japan to explain the development of global criteria for political legitimacy in nations and empires in the nineteenth and twentieth centuries.



Japan underwent three distinct crises of sovereignty in its modern history: in the 1890s, during the interwar period, and in the 1950s. Each crisis provoked successively escalating crusades against opium and other drugs, in which moral entrepreneurs--bureaucrats, cultural producers, merchants, law enforcement, scientists, and doctors, among others--focused on drug use as a means of distinguishing between populations fit and unfit for self-rule. Moral Nation traces the instrumental role of ideologies about narcotics in the country's efforts to reestablish its legitimacy as a nation and empire.



As Kingsberg demonstrates, Japan's growing status as an Asian power and a "moral nation" expanded the notion of "civilization" from an exclusively Western value to a universal one. Scholars and students of Japanese history, Asian studies, world history, and global studies will gain an in-depth understanding of how Japan's experience with narcotics influenced global standards for sovereignty and shifted the aim of nation building, making it no longer a strictly political activity but also a moral obligation to society.
About the Author

Miriam Kingsberg is Assistant Professor of History at the University of Colorado, Boulder.
Praise For Moral Nation: Modern Japan and Narcotics in Global History (Asia: Local Studies / Global Themes #29)…
"A nuanced exploration of an important issue . . . Kingsberg is to be commended for extensive research in Japanese and English, and for some in Chinese. In raising a host of practical and abstract issues for historical figures, she provides future historians with much to ponder."
— Bill Sewell
"This book performs an invaluable service by untangling the complex Japanese discourse on drugs, primarily opium, in the years between 1868 and 1957."
— Alan Baumler
"Thorough, well researched, and novel…. [Moral Nation] brings a new perspective to the issue of opium trafficking in East Asia, to Japan's colonial role in this region, and to the broader issue of Japan's encounter with modernity."
— Richard Reitan
"Moral Nation, meticulously researched and sensibly written, is a welcome addition to the library of Japanese studies."
— Ryoko Yamamoto