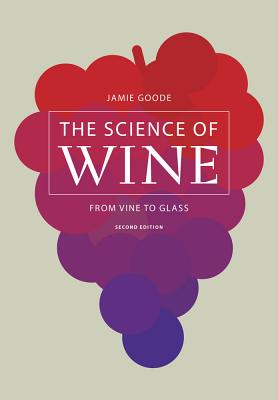 The Science of Wine
From Vine to Glass
Hardcover

* Individual store prices may vary.
Description

Praise for the First Edition



"Winemaking these days is a complicated process that cannot always be understood intuitively. Fortunately Jamie Goode's The Science of Wine: From Vine to Glass explains some of the terms that critics toss around. . . . Mr. Goode manages to make then lively and provocative."—Eric Asimov, New York Times



A thoroughly revised and updated Second Edition of this essential and groundbreaking reference gives a comprehensive overview of one of the most fascinating, important, and controversial trends in the world of wine: the scientific and technological innovations that are now influencing how grapes are grown and how wine is made. Jamie Goode, a widely respected authority on wine science, details the key scientific developments relating to viticulture and enology, explains the practical application of science to techniques that are used around the world, and explores how these issues are affecting the quality, flavor, and perception of wine. The only complete and accessibly written resource available on the subject, The Science of Wine: From Vine to Glass engagingly discusses a wide range of topics including terroir, biodynamics, the production of "natural" or manipulation-free wines, the potential effect of climate change on grape growing, the health benefits of wine, and much more. A must-have reference for a wide audience of students, winemakers, wine professionals, and general readers interested in the science of wine.



The Second Edition features:



* A fresh new design with 100 color illustrations throughout



* Discussions of some of the most hotly debated issues including genetically modified grapevines, sulphur dioxide, the future of cork, and wine flavor chemistry



* New chapters on soils and vines, the science of grape varieties, oxygen management and wine quality, red wine production techniques, and the role of language to describe the subtleties of taste
Praise For The Science of Wine: From Vine to Glass…
"Winemaking these days is a complicated process that cannot always be understood intuitively. Fortunately . . . The Science of Wine: From Vine to Glass explains some of the terms that critics toss around. . . . Mr. Goode manages to make them lively and provocative."
— Eric Asimov,

"A fantastic job presenting balanced, approachable yet technical essays on many of the major issues in winemaking and appreciation. . . . Goode's readable prose makes even the most technical subjects accessible. For anyone interested in more than just drinking wine, this is a must read."
— Wine Enthusiast

"An excellent reference work and, once you're in, a very interesting read."
— Decanter

"I learnt a humbling amount from Goode's book."
— Jancis Robinson,

"In a conversational style, Goode investigates every current major technical issue about wine and some philosophical ones as well."
— San Francisco Chronicle

"A splendid read for serious wine fans."
— Miami Herald

"Thorough, fascinating, and comprehensive. . . . A perfect mix of science and humanity, not unlike wine itself."
— Gastronomica: Journal of Food & Culture

"The best book ever addressed to amateurs on the complicated, and these days sometimes contentious, technical aspects of wine. Jamie Goode is well informed, clear, simple, and lively. In fact, he sets a high standard so high that it would be hard to beat by a writer on any subject. "
— Art Of Eating

"This is a fine, readily approachable book about vines and wines and humankind's centuries-old fascination with them both."
— CHOICE

"You could read this book cover to cover; you can just as well dip into particular chapters as the mood strikes you, or when some wine geek drops a string of terms you aren't familiar with. Either way, if you want to understand the science behind what's in your glass, this is the place to go."
— Vinography

"Goode's book provides insights from a veteran taster who's clearly absorbed enough in the science to fashion credible models for tasters at all levels of experience."
— Oregon Wine Press

"[The Science of Wine] reads like a novel. The author writes of wine as an expert, but without ever tiring his reader. . . . It's a fascinating book, easy to read, sure to interest specialists and knowledgeable nonspecialists alike. Read a chapter now and again throughout the summer, and all year long."
— Vins & Vignobles

"This book is fabulous, simply fabulous. . . . The author has done a top notch job of explaining to all wine drinkers just how much science already shapes what is in every wine bottle. He does a masterful job of detailing how much we know and where the research frontiers are located. This superb book is a must for all wine drinkers."
— California Grapevine

"A splendid read."
— Buffalo News

"A good writer who can make complex subjects accessible and interesting to a wide variety of readers."
— Wine East

"No one will read this book and not learn a great many things."
— Burghound
University of California Press, 9780520276895, 216pp.
Publication Date: April 1, 2014
About the Author

Jamie Goode is the wine columnist for the UK national newspaper The Sunday Express and he also writes for The World of Fine Wine, Wines and Vines, Wine Business International, Wine and Spirits, and Sommelier Journal. He is coauthor of Authentic Wine: Toward Natural and Sustainable Winemaking (UC Press). The first edition of The Science of Wine was the 2006 Glenfiddich Drink Book of the Year.