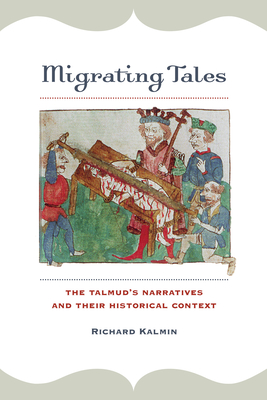 Migrating Tales
The Talmud's Narratives and Their Historical Context
Hardcover

* Individual store prices may vary.
Other Editions of This Title:
Paperback (5/25/2021)
Description
Migrating Tales situates the Babylonian Talmud, or Bavli, in its cultural context by reading several rich rabbinic stories against the background of Greek, Syriac, Arabic, Persian, and Mesopotamian literature of late antiquity and the early Middle Ages, much of it Christian in origin. In this nuanced work, Richard Kalmin argues that non-Jewish literature deriving from the eastern Roman provinces is a crucially important key to interpreting Babylonian rabbinic literature, to a degree unimagined by earlier scholars. Kalmin demonstrates the extent to which rabbinic Babylonia was part of the Mediterranean world of late antiquity and part of the emerging but never fully realized cultural unity forming during this period in Palestine, Syria, Mesopotamia, and western Persia.

Kalmin recognizes that the Bavli contains remarkable diversity, incorporating motifs derived from the cultures of contemporaneous religious and social groups. Looking closely at the intimate relationship between narratives of the Bavli and of the Christian Roman Empire, Migrating Tales brings the history of Judaism and Jewish culture into the ambit of the ancient world as a whole.
Praise For Migrating Tales: The Talmud's Narratives and Their Historical Context…
"The rabbinic gems unearthed by the author's questions/answers/reflections mark the beginning of a venture into the place of rabbinic folk narrative in the culture of the ancient Mediterranean world."
— CHOICE
"Kalmin has provided scholars of late antique Judaism with a valuable resource for thinking about Jewish culture and ideas."
— H-Net Reviews
"A fascinating book. . . . Migrating Tales is a most welcome edition."
— Times of Israel
"All credit to Richard Kalmin for judiciously and encouragingly pointing in scholarly directions that have previously been little explored."
— Journal of Theological Studies
"Kalmin expertly uses the examples in his book to claim that the borders of late ancient empires were porous, and that ideas and traditions moved freely between them. This is undoubtedly correct and an important corrective to the inward gaze of rabbis—Roman and Sasanian—celebrated in scholarship in recent decades."
— Marginalia
"Few . . . rigorous, scholarly publications are also written in a brilliant, clear, and fluent manner, making them interesting and enjoyable reading for any educated reader. Professor Richard Kalmin's Migrating Tales: The Talmud's Narratives and Their Historical Context certainly belongs to this category."
— Mediterranean Studies
"Rightly contests a dichotomous division of the rabbinic world into 'West' and 'East,' 'Greco-Roman' and 'Persian,"' and presents instead a much more complex and dynamic picture of migration, transition, and interaction between regions, languages, and cultures. . . . The book deserves praise for the remarkable erudition that underlies it, for its scrupulousness, and for the textual and philological sensitivity that guides every page of it."
— Journal of Religion
"Kalmin's approach is quite convincing, and will hopefully encourage others to pursue similar areas of research. Recommended for academic libraries, with interests in rabbinics or ancient Jewish history."
— Association of Jewish Libraries
"This book is highly recommended for its thorough research, elegant translations, and readable style. It is a significant addition to talmudic scholarship."
— Review of Biblical Literature
"Kalmin has provided scholars of late antique Judaism with a valuable resource for thinking about Jewish culture and ideas."
— Humanities and Social Science
"A rich resource for students of rabbinic literature who seek to understand how legends were borrowed and retold among rabbis and non-Jews in the Roman east. This book will also serve as a methodological guide for scholars interested in studying cultural sharing among a wide range of traditions."
— Studies in Christian-Jewish Relations
"Honigman presents a sophisticated, encompassing, and ultimately persuasive reconstruction of the political, economic, cultural and literary forces at work that resulted in the production of these two puzzling books."
— Heythrop Journal
University of California Press, 9780520277250, 312pp.
Publication Date: September 5, 2014
About the Author
Richard Kalmin is Theodore R. Racoosin Chair of Rabbinic Literature at The Jewish Theological Seminary. He is the author of the award-winning Jewish Babylonia between Persia and Roman Palestine and several other books about the literature and history of the Jews of late antiquity. The research and writing of Migrating Tales was supported by a grant from the National Endowment for the Humanities.