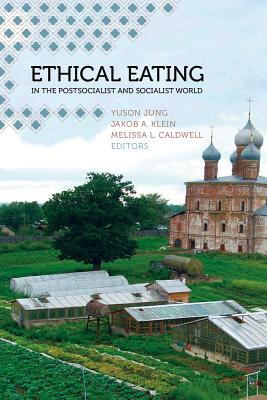 Ethical Eating in the Postsocialist and Socialist World
Hardcover

* Individual store prices may vary.
Description

Current discussions of the ethics around alternative food movements--concepts such as "local," "organic," and "fair trade"--tend to focus on their growth and significance in advanced capitalist societies. In this groundbreaking contribution to critical food studies, editors Yuson Jung, Jakob A. Klein, and Melissa L. Caldwell explore what constitutes "ethical food" and "ethical eating" in socialist and formerly socialist societies. With essays by anthropologists, sociologists, and geographers, this politically nuanced volume offers insight into the origins of alternative food movements and their place in today's global economy. Collectively, the essays cover discourses on food and morality; the material and social practices surrounding production, trade, and consumption; and the political and economic power of social movements in Bulgaria, China, Cuba, Lithuania, Russia, and Vietnam. Scholars and students will gain important historical and anthropological perspective on how the dynamics of state-market-citizen relations continue to shape the ethical and moral frameworks guiding food practices around the world.
Praise For Ethical Eating in the Postsocialist and Socialist World…
"Rich, both theoretically and empirically . . . It is, in short, a text bound to the complex pursuit of the ethical in a world where such an endeavour is becoming all the more urgent."
— Fiona Murphy

"A unique and important contribution to the scholarships of ethical consumption and alternative food movements."
— Loretta Iegtak Lou

"This book is a valuable source of insight both for scholars and activists looking for more nuanced and "culturally sensitive" approaches to food and its social, political, symbolical, and practical meanings."
— Costanza Curro

"This volume signifi cantly contributes to understanding what it means to practice ethical eating and points to the various dilemmas in paving the way toward more sustainable food systems."
— Tanja Kamin
University of California Press, 9780520277403, 232pp.
Publication Date: February 21, 2014
About the Author

Yuson Jung is Assistant Professor in Anthropology at Wayne State University.



Jakob A. Klein is Lecturer in Social Anthropology at the School of Oriental and African Studies (SOAS), University of London.



Melissa L. Caldwell is Professor of Anthropology at the University of California, Santa Cruz and the author of Dacha Idylls: Living Organically in Russia's Countryside and Not by Bread Alone: Social Support in the New Russia.