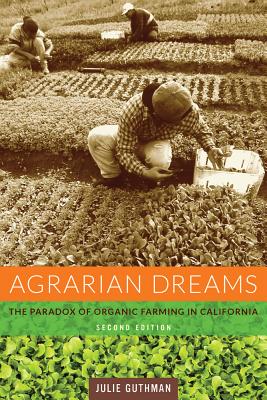 Agrarian Dreams
The Paradox of Organic Farming in California (California Studies in Critical Human Geography)
Paperback

* Individual store prices may vary.
Description
In this groundbreaking study of organic farming, Julie Guthman challenges accepted wisdom about organic food and agriculture in the Golden State. Many continue to believe that small-scale organic farming is the answer to our environmental and health problems, but Guthman refutes popular portrayals that pit "small organic" against "big organic" and offers an alternative analysis that underscores the limits of an organic label as a pathway to transforming agriculture.

This second edition includes a thorough investigation of the federal organic program, a discussion of how the certification arena has continued to grow and change since its implementation, and an up-to-date guide to the structure of the organic farming sector. Agrarian Dreams delivers an indispensable examination of organic farming in California and will appeal to readers in a variety of areas, including food studies, agriculture, environmental studies, anthropology, sociology, geography, and history.
University of California Press, 9780520277465, 328pp.
Publication Date: July 11, 2014
About the Author
Julie Guthman is Professor of Social Sciences at the University of California, Santa Cruz. She is the author of Weighing In: Obesity, Food Justice, and the Limits of Capitalism (UC Press).