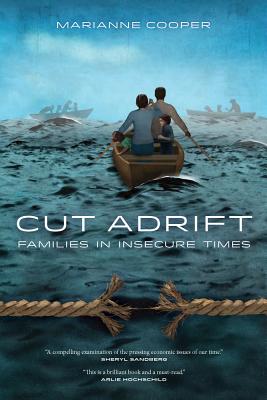 Cut Adrift
Families in Insecure Times
Paperback

* Individual store prices may vary.
Other Editions of This Title:
Hardcover (7/31/2014)
Description
Cut Adrift makes an important and original contribution to the national conversation about inequality and risk in American society. Set against the backdrop of rising economic insecurity and rolled-up safety nets, Marianne Cooper's probing analysis explores what keeps Americans up at night. Through poignant case studies, she reveals what families are concerned about, how they manage their anxiety, whose job it is to worry, and how social class shapes all of these dynamics, including what is even worth worrying about in the first place.  This powerful study is packed with intriguing discoveries ranging from the surprising anxieties of the rich to the critical role of women in keeping struggling families afloat.  Through tales of stalwart stoicism, heart-wrenching worry, marital angst, and religious conviction, Cut Adrift deepens our understanding of how families are coping in a go-it-alone age—and how the different strategies on which affluent, middle-class, and poor families rely upon not only reflect inequality, but fuel it.


 
Praise For Cut Adrift: Families in Insecure Times…
"Accessible, elucidating, and grounded in real stories. . . . Cooper offers a robust analysis of gender dynamics, with sharp insights about the heavy burden on women to manage the family's anxiety. Cooper's necessary and timely study is a discomfiting reminder of the human cost of the recession." STARRED REVIEW
— Publishers Weekly

"Cooper's interviewees are fascinating, heartbreakingly optimistic in their poverty or head-shakingly preoccupied with their wealth (which is never enough). . . . A well-told, personal representation of what's happened to real people in times of 'income stagnation, growing inequality, increasing economic instability, soaring debt, and rising costs.'"
— Booklist

"Revelatory."
— Helaine Olen

"Cut Adrift could well serve as a guide and touchstone . . . for the many occasions on which scholars and activists explore the consequences of increasing inequality and uneven vulnerability to economic risk."
— American Journal of Sociology (AJS)

"Cooper's analysis is nuanced and incisive, her writing is clear and engaging, her reasoning is logical, and her conclusions are well justified. This book helps establish security in the suite of outcomes that concern those conducting research and teaching in the area of social inequality."
— Gender and Society
University of California Press, 9780520277670, 320pp.
Publication Date: July 31, 2014
About the Author
Marianne Cooper is a sociologist at the Clayman Institute for Gender Research at Stanford University and an affiliate at the Stanford Center on Poverty and Inequality. She was the lead researcher for Lean In: Women, Work, and the Will to Lead by Sheryl Sandberg and is a contributor to LeanIn.org. She received her PhD in sociology from the University of California, Berkeley.