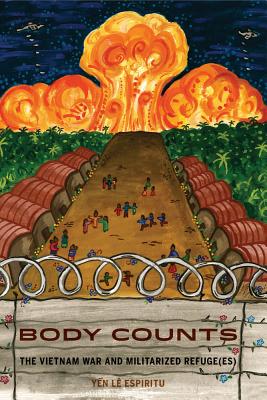 Body Counts (Paperback)
The Vietnam War and Militarized Refugees
University of California Press, 9780520277717, 264pp.
Publication Date: August 23, 2014
Other Editions of This Title:
Hardcover (8/23/2014)
* Individual store prices may vary.
Description
Body Counts: The Vietnam War and Militarized Refuge(es) examines how the Vietnam War has continued to serve as a stage for the shoring up of American imperialist adventure and for the (re)production of American and Vietnamese American identities. Focusing on the politics of war memory and commemoration, this book retheorizes the connections among history, memory, and power and refashions the fields of American studies, Asian American studies, and refugee studies not around the narratives of American exceptionalism, immigration, and transnationalism but around the crucial issues of war, race, and violence—and the history and memories that are forged in the aftermath of war. At the same time, the book moves decisively away from the "damage-centered" approach that pathologizes loss and trauma by detailing how first- and second-generation Vietnamese have created alternative memories and epistemologies that challenge the established public narratives of the Vietnam War and Vietnamese people. Explicitly interdisciplinary, Body Counts moves between the humanities and social sciences, drawing on historical, ethnographic, cultural, and virtual evidence in order to illuminate the places where Vietnamese refugees have managed to conjure up social, public, and collective remembering.
About the Author
Yen Le Espiritu is Professor of Ethnic Studies at the University of California, San Diego. She is the author of the award-winning Home Bound: Filipino American Lives across Cultures, Communities, and Countries (UC Press, 2003).
Praise For Body Counts: The Vietnam War and Militarized Refugees…
"An important addition to the transnational history of the Vietnam War, Cold War global history, and the history of Asian migration to the United States. . . . An Innovative work."
— Heonik Kwon