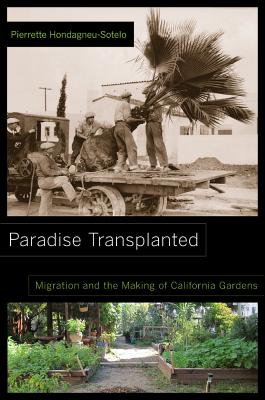 Paradise Transplanted
Migration and the Making of California Gardens
Paperback

* Individual store prices may vary.
Description
Gardens are immobile, literally rooted in the earth, but they are also shaped by migration and by the transnational movement of ideas, practices, plants, and seeds. In Paradise Transplanted, Pierrette Hondagneu-Sotelo reveals how successive conquests and diverse migrations have made Southern California gardens, and in turn how gardens influence social inequality, work, leisure, status, and our experiences of nature and community. Drawing on historical archival research, ethnography, and over one hundred interviews with a wide range of people including suburban homeowners, paid Mexican immigrant gardeners, professionals at the most elite botanical garden in the West, and immigrant community gardeners in the poorest neighborhoods of inner-city Los Angeles, this book offers insights into the ways that diverse global migrations and garden landscapes shape our social world.
Praise For Paradise Transplanted: Migration and the Making of California Gardens…
"The book is a tour de force, essential reading for all who want to know more about the Californian landscape."
— British Journal of Sociology

"...illuminates social organization of the region far beyond gardens, with obvious significance outside Southern California."
— Gender & Society

"Illuminating and provocative . . . pushes urbanists and gardeners alike to see their work from new and unexpected angles."
— Priscilla P. Ferguson

"Paradise Transplanted provides an absorbing narrative about how gardens are spaces where the past and the future merge, and where the local and global meet to form new practices and possibilities."
— City and Community

"A worthwhile read."
— Peter Catron

"Hondagneu-Sotelo renders a powerful narrative that provides readers with an easy visualization of the natural spaces…One can imagine teaching Paradise Transplanted to undergraduates as both methodological example and illustration of C. Wright Mills's clarion call for the sociological imagination."
— American Journal of Sociology

"…offers a timely, creative, and highly readable study of plants and people in the California landscape…an ingenious and unusual research design, one that crosscuts social classes, ethnic groups, immigrant generations, and organizational contexts."
— Contemporary Sociology

"…a brilliant contribution to migration studies, history, urban planning, geography and landscape studies."
— Home Cultures: The Journal of Architecture, Design and Domestic Space

"How can we bring our cityscapes closer to the paradise that we yearn for? Paradise Transplanted pushes urbanists and gardeners alike to see their work from new and unexpected angles. Our cities will be the better for it."
— Priscilla P. Ferguson
University of California Press, 9780520277779, 304pp.
Publication Date: August 15, 2014
About the Author
Pierrette Hondagneu-Sotelo is Professor of Sociology at the University of Southern California and the author of Gendered Transitions, God's Heart Has No Borders, and Domestica.