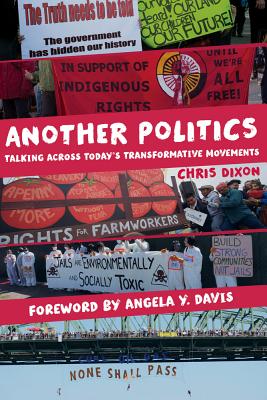 Another Politics
Talking across Today's Transformative Movements
Paperback

* Individual store prices may vary.
Other Editions of This Title:
Hardcover (8/15/2014)
Description
Amidst war, economic meltdown, and ecological crisis, a "new spirit of radicalism is blooming" from New York to Cairo, according to Chris Dixon. In Another Politics, he examines the trajectory of efforts that contributed to the radicalism of Occupy Wall Street and other recent movement upsurges. Drawing on voices of leading organizers across the United States and Canada, he delivers an engaging presentation of the histories and principles that shape many contemporary struggles.

Dixon outlines the work of activists aligned with anti-authoritarian, anti-capitalist, and anti-oppression politics and discusses the lessons they are learning in their efforts to create social transformation. The book explores solutions to the key challenge for today's activists, organizers, fighters, and dreamers: building a substantive link between the work of "against," which fights ruling institutions, and the work of "beyond," which develops liberatory alternatives.
Praise For Another Politics: Talking across Today's Transformative Movements…
"An excellent distillation of what Dixon calls 'another politics,' a shared political orientation that unites grassroots organizers working from similar principles in the United States and Canada across issue, movement, sector, strategy and identity. . . . Like a good organizing mentor, Dixon (and his interviewees) gives us insight without 'right' answers, helping to deepen our understanding of commonalities and remind us of the deep roots of the 'another politics' leftist lineage."
— Andrew Willis Garcés

"An invaluable snapshot of the North American left today. . . . To understand the state of the left in North America, in all its aspirations and its limitations, Another Politics is an important book."
— Justin Podur

"With such widespread challenges and injustice facing our society, combined with the shifting energies and momentum of people power, the 'another politics' Chris Dixon documents in Another Politics: Talking Across Today's Transformative Movements offers perhaps the most promising and exciting approaches to collectively addressing these problems while simultaneously moving us into the world in which we wish to live."
— Greg MacDougall

"Gripping and politically productive . . . impressive and important . . . A compelling work of social and political theory."
— Ted Rutland

"Chris Dixon exposes the teeth of anti-authoritarian organizing, and captures--with rigor--the emergent possibilities in this new spirit of radicalism . . . This book serves as an invitation to activists and organizers to struggle better, more wholly, and more effectively for collective transformative change."
— Make/Shift

"Remarkable... [Another Politics] accomplishes [a] complex task... by strategic inquisitiveness...[a] unique contribution."
— Labour/Le Travail

"Another Politics is a major new work.... a vital learning tool... [and] a must have."

— New Political Science

"One of the most engaging books on activism that I've read in a long time . . . Another Politics is inspiring and thought provoking without being naive. A must read for anyone into activism and grassroots politics."
— E V E L Y N

"Dixon is an extremely generous scholar as he weaves his text around interviews with movement participants. The book offers readers a meticulous account of these organizing cultures in addition to the thought processes, decision-making mechanisms, and application of historical reflections and theoretical concepts in a contemporary social movement."
— Kevin Van Meter
University of California Press, 9780520279025, 355pp.
Publication Date: August 15, 2014
About the Author
Chris Dixon is an activist, writer, and educator who received a PhD from the History of Consciousness program at the University of California, Santa Cruz. His writing has appeared in We Are Many: Reflections on Movement Strategy from Occupation to Liberation, Anarchist Studies, Clamor, the Earth First! Journal, Left Turn, Social Movement Studies, and Upping the Anti. He has been involved in transformative social movements for more than two decades.