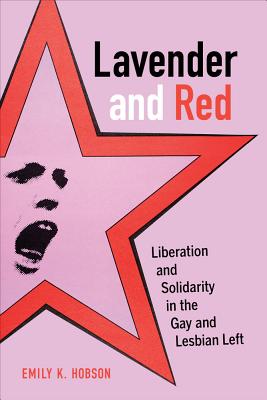 Lavender and Red (Paperback)
Liberation and Solidarity in the Gay and Lesbian Left (American Crossroads #44)
University of California Press, 9780520279063, 336pp.
Publication Date: October 4, 2016
Other Editions of This Title:
Hardcover (10/4/2016)
* Individual store prices may vary.
Description
LGBT activism is often imagined as a self-contained struggle, inspired by but set apart from other social movements. Lavender and Red recounts a far different story: a history of queer radicals who understood their sexual liberation as intertwined with solidarity against imperialism, war, and racism. This politics was born in the late 1960s but survived well past Stonewall, propelling a gay and lesbian left that flourished through the end of the Cold War. The gay and lesbian left found its center in the San Francisco Bay Area, a place where sexual self-determination and revolutionary internationalism converged. Across the 1970s, its activists embraced socialist and women of color feminism and crafted queer opposition to militarism and the New Right. In the Reagan years, they challenged U.S. intervention in Central America, collaborated with their peers in Nicaragua, and mentored the first direct action against AIDS. Bringing together archival research, oral histories, and vibrant images, Emily K. Hobson rediscovers the radical queer past for a generation of activists today.
About the Author
Emily K. Hobson is Associate Professor of History and of Gender, Race, and Identity at the University of Nevada, Reno.
Praise For Lavender and Red: Liberation and Solidarity in the Gay and Lesbian Left (American Crossroads #44)…
"Hobson succeeds in painting a rich portrait of a vibrant gay and lesbian left that flourished in the Bay Area in the 1970s and 1980s and saw itself as connected to the international left... the book has certainly made me rethink the way I write and teach LGBT history and has added some very necessary complications to that standard narrative."
— Daily Kos
"Hobson analyzes these tensions and recovers varying forms of political critique, strategy, and community. Through drawing on oral histories and archival documents, including striking photographs, flyers, and political artwork, Lavender and Red lifts up a strain of gay and lesbian activism that had been all but lost to memory for most activists and scholars of today."
— New Books Network
"Outstanding... Lavender and Red offers an inspiring and much needed challenge to other histories of the LGBTQ movement."
— The Sixties
"Compelling... Lavender and Red surfaces the gay and lesbian left's creative, intersectional analyses of US militarism, imperialism, capitalism, racism, and state violence, and its efforts to think about these systems through the lenses of gender and sexuality."
— Women's Review of Books
". . . bring[s] into focus lesbian feminist of colour organisations and Black gay male organisers, and illustrate[s] how the politics of race and sexuality intersected and were mutually constitutive. The result is a richer, more complicated history of LGBT activism and organising in the context of the post liberation era."
— Gender and History
"Using careful and at points poetically poignant prose, this volume will enrich explorations of LGBTQ studies, left history, Cold War history, and Central American solidarity."
— Pacific Historical Review