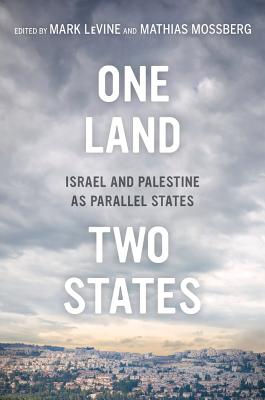 One Land, Two States
Israel and Palestine as Parallel States
Paperback

* Individual store prices may vary.
Other Editions of This Title:
Hardcover (6/20/2014)
Description

One Land, Two States imagines a new vision for Israel and Palestine in a situation where the peace process has failed to deliver an end of conflict. "If the land cannot be shared by geographical division, and if a one-state solution remains unacceptable," the book asks, "can the land be shared in some other way?"



Leading Palestinian and Israeli experts along with international diplomats and scholars answer this timely question by examining a scenario with two parallel state structures, both covering the whole territory between the Mediterranean and the Jordan River, allowing for shared rather than competing claims of sovereignty. Such a political architecture would radically transform the nature and stakes of the Israel-Palestine conflict, open up for Israelis to remain in the West Bank and maintain their security position, enable Palestinians to settle in all of historic Palestine, and transform Jerusalem into a capital for both of full equality and independence—all without disturbing the demographic balance of each state. Exploring themes of security, resistance, diaspora, globalism, and religion, as well as forms of political and economic power that are not dependent on claims of exclusive territorial sovereignty, this pioneering book offers new ideas for the resolution of conflicts worldwide.
Praise For One Land, Two States: Israel and Palestine as Parallel States…
"A coterie of bold, open-minded international academics offers a fresh paradigm for Israeli-Palestinian coexistence. . . . A visionary approach so daring that it could actually work."
— Kirkus

"In an effort to circumvent a seemingly bleak future, a group of Israeli and Palestinian scholars is proposing and examining an interesting and provocative paradigm shift . . . these essayists provide some interesting and refreshing ideas."
— Jay Freeman

"The idea merits further exploration."
— Publishers Weekly

"A perceptual and cognitive turnaround aimed at formulating a solution to the situation. And it may well be that this is precisely what it takes to get out of the impasse the diplomatic process has reached."
— Arad Nir

"A provocative and daring new approach to peacefully meeting the national rights of Israelis and Palestinians."
— Rami G. Khouri

"It is evident that the editors put considerable thought into seeking a fine balance between Israeli and Palestinian scholars—and this is done quite artfully."
— Israel Journal of Foreign Affairs

"Throughout the book, Levine, and Mossberg investigate every aspect of of the idea of "Parallel States." They analyze a new coexistence of Israel and Palestine at all levels: economic, religious, judicial; and how it would prevent the emergence of tensions between the communities."
— Joan Català Margarit

"[One land, two states] stimulates new thinking towards resolving the Israel- Palestine conflict."
— Muhammad Yaseen Gada

"One Land, Two States performs a valuable service in presenting a different framework for discussion of the Israeli-Palestinian conflict. . . . the questions it raises are provocative and worthy of further thought and discussion."
— Contemporary Jewry
University of California Press, 9780520279131, 296pp.
Publication Date: June 20, 2014
About the Author
Mark LeVine is Professor of History at the University of California, Irvine, a contributing editor for Tikkun, and a senior columnist for Al Jazeera. He is the author of Overthrowing Geography and the coeditor of Struggle and Survival in Palestine/Israel (both from UC Press).

Mathias Mossberg is a retired Swedish ambassador with extensive personal experience from the peace process and related track-two diplomacy as well as from mediation efforts in other conflicts. He is Senior Fellow at the Center for Middle Eastern Studies, Lund University, Sweden.