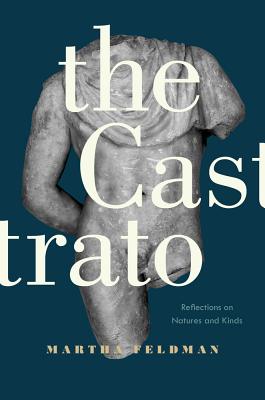 The Castrato (Hardcover)
Reflections on Natures and Kinds (Ernest Bloch Lectures #16)
University of California Press, 9780520279490, 496pp.
Publication Date: February 20, 2015
Other Editions of This Title:
Paperback (8/2/2016)
* Individual store prices may vary.
Description
The Castrato is a nuanced exploration of why innumerable boys were castrated for singing between the mid-sixteenth and late-nineteenth centuries. It shows that the entire foundation of Western classical singing, culminating in bel canto, was birthed from an unlikely and historically unique set of desires, public and private, aesthetic, economic, and political. In Italy, castration for singing was understood through the lens of Catholic blood sacrifice as expressed in idioms of offering and renunciation and, paradoxically, in satire, verbal abuse, and even the symbolism of the castrato's comic cousin Pulcinella. Sacrifice in turn was inseparable from the system of patriarchy—involving teachers, patrons, colleagues, and relatives—whereby castrated males were produced not as nonmen, as often thought nowadays, but as idealized males. Yet what captivated audiences and composers—from Cavalli and Pergolesi to Handel, Mozart, and Rossini—were the extraordinary capacities of castrato voices, a phenomenon ultimately unsettled by Enlightenment morality. Although the castrati failed to survive, their musicality and vocality have persisted long past their literal demise.
About the Author
Martha Feldman is Mabel Greene Myers Professor of Music, Romance Languages, and Literatures and the Humanities at the University of Chicago. She is the author of City Culture and the Madrigal at Venice and Opera and Sovereignty: Transforming Myths in Eighteenth-Century Italy and coeditor of The Courtesan's Arts.
Praise For The Castrato: Reflections on Natures and Kinds (Ernest Bloch Lectures #16)…
"Rich in scholarship and filled with subtle analysis." 
— Colm Tóibín
"This is a remarkable book. . . . An impressive achievement."
— Nicholas Clapton
"Meticulously researched, beautifully written and richly illustrated . . . In this book, as erudite as it is gripping, there is little to criticize."
— Cultural History
"Feldman's high-mindedness . . . allows her to investigate this most easily sensationalized of topics with subtlety, taste and doses of scholarship that are not suffocatingly encyclopedic. . . . If you love singing there's every reason to read The Castrato."
— Tim Pfaff