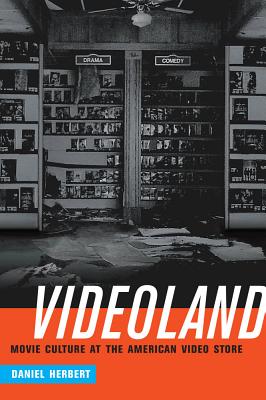 Videoland (Paperback)
Movie Culture at the American Video Store
University of California Press, 9780520279636, 336pp.
Publication Date: January 24, 2014
Other Editions of This Title:
Hardcover (1/24/2014)
* Individual store prices may vary.
Description
Videoland offers a comprehensive view of the "tangible phase" of consumer video, when Americans largely accessed movies as material commodities at video rental stores. Video stores served as a vital locus of movie culture from the early 1980s until the early 2000s, changing the way Americans socialized around movies and collectively made movies meaningful. When films became tangible as magnetic tapes and plastic discs, movie culture flowed out from the theater and the living room, entered the public retail space, and became conflated with shopping and salesmanship. In this process, video stores served as a crucial embodiment of movie culture's historical move toward increased flexibility, adaptability, and customization.



In addition to charting the historical rise and fall of the rental industry, Herbert explores the architectural design of video stores, the social dynamics of retail encounters, the video distribution industry, the proliferation of video recommendation guides, and the often surprising persistence of the video store as an adaptable social space of consumer culture. Drawing on ethnographic fieldwork, cultural geography, and archival research, Videoland provides a wide-ranging exploration of the pivotal role video stores played in the history of motion pictures, and is a must-read for students and scholars of media history.
About the Author

Daniel Herbert is Assistant Professor of Screen Arts and Cultures at the University of Michigan.
Praise For Videoland: Movie Culture at the American Video Store…
"Herbert effectively traces a genealogy of movies from the strip malls of yesteryear to today's rootless culture of moving-image consumption."
— Film Comment
"Videoland: Movie Culture at the American Video Store is an unusual and often unusually compelling study of the emergence and disappearance of American movie-rental stores."
— Slant
"Videoland...offers an outstanding analysis of film as material object embedded within a specific cultural moment, and it is, I believe, a must-read for students of media history."
— Times Higher Education
"Herbert's attention to the interlopers and improbable pioneers who helped propel movie culture forward in the 1980s and 1990s is a welcome addition to other recent examinations of home video as well as the emerging field of media industries."
— Discourse
"In juxtaposing media industry studies with a specific eye toward Americana and regionalism, Videoland offers a loving tribute to the video store as a significant space in media history."
— The Spectator
"Written in a clear, clean, accessible style, this is a masterful study of a cultural moment whose time has come and gone."
— CHOICE
"Through [his] interviews, he creates a richly textured sense of the culture that existed in many video stores, of the way the stores were woven into their local communities, and of the economic challenges the stores confronted in a shifting technological landscape."
— Journal of American History
"Herbert's interdisciplinary methodology is one of the book's chief achievements. Comprised of excellent historical research and cultural analysis, Videoland also makes an important contribution to a range of subfields within film and media studies, including media distribution, media history, taste cultures, film criticism, and ethnographic audience research."
— Velvet Light Trap
"An accessible history of the video rental store and its impact on media consumption."
— Film Criticism