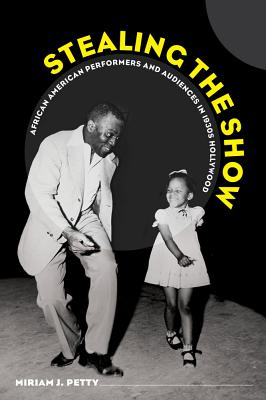 Stealing the Show
African American Performers and Audiences in 1930s Hollywood
Paperback

* Individual store prices may vary.
Other Editions of This Title:
Hardcover (3/8/2016)
Description
Stealing the Show is a study of African American actors in Hollywood during the 1930s, a decade that saw the consolidation of stardom as a potent cultural and industrial force. Petty focuses on five performers whose Hollywood film careers flourished during this period—Louise Beavers, Fredi Washington, Lincoln "Stepin Fetchit" Perry, Bill "Bojangles" Robinson, and Hattie McDaniel—to reveal the "problematic stardom" and the enduring, interdependent patterns of performance and spectatorship for performers and audiences of color. She maps how these actors—though regularly cast in stereotyped and marginalized roles—employed various strategies of cinematic and extracinematic performance to negotiate their complex positions in Hollywood and to ultimately "steal the show." Drawing on a variety of source materials, Petty explores these stars' reception among Black audiences and theorizes African American viewership in the early twentieth century. Her book is an important and welcome contribution to the literature on the movies.
Praise For Stealing the Show: African American Performers and Audiences in 1930s Hollywood…
"[Miriam Petty's] ambitious book places Stepin' Fetchit (the persona of Lincoln Perry) in a new light, and all of her subjects in high relief. . . . [A] fine book." 
— Film Quarterly

"Miriam J. Petty complicates narratives of cinematic stardom and visibility in the Jim Crow era by examining the on- and off-screen performances of five African American actors. By studying the relationship among these performers, their audiences, the black and white presses, and Hollywood studios, Petty illustrates how their celebrity can be understood as a problematic one, in which Hollywood was able to maintain an air of white benevolence while it and the mainstream press worked to perpetuate racist ideology. Providing a counterbalance to this narrative is that the black press's coverage of performances by the five actors—Hattie McDaniel, Bill Robinson, Louise Beavers, Fredi Washington, and Lincoln Perry—served as a means for critique and discussion among the African American community. The work adeptly links these dynamics together through the phrase "stealing the show," a term used by both mainstream and black presses to describe the impressive performances of these actors."
— Studies in American Humor

"Stealing the Show's pedagogical possibilities and pairings are as exciting as they are refreshing. This book should be used in American cinema classes broadly and should serve as a requisite text for African American cinema classes. . . . There is so much that this excellent book says about Black stars and audiences today in what Kristen J. Warner calls the 'time of plastic representation' in Hollywood. Stealing the Show should inspire cinema and media scholars to expand on this stunning contribution to the field by looking back at the roles of other 'picture stealers' in the studio era and thinking forward to their modern-day counterparts."
— Journal for Cinema and Media Studies

"A corrective to simplistic, broadly drawn readings of 1930s Black performers, Stealing the Show deftly balances nuanced readings of Black stereotypes, cinematic moments, extracinematic dynamics and discourses, and self-fashioning and spectatorial politics. In doing so, Petty demonstrates the substantial and, often, subversive ways that "Black entertainers and audiences expressed agency and negotiated ideas about their lives and identities through acts of performance and discourse that incorporated and exceeded the cinematic frame." Focusing on widely known performers and performances, Petty pushes beyond a superficial reading of Black representation in the 1930s, encouraging a more thoughtful account of the import and impact of the roles these pioneering, beleaguered stars played."
— Journal of Cinema and Music Studies

"In Stealing the Show [Petty] delivers a sophisticated, highly readable yet complex study of this period that illustrates the nuanced relationships between African American actors, their screen roles, and the audiences viewing them in theaters. . . . Petty's mastery of the scholarship, along with her archival research and her theoretical boldness make Stealing the Show an instant classic in the genre." 
— Journal of American History
University of California Press, 9780520279773, 320pp.
Publication Date: March 8, 2016
About the Author
Miriam J. Petty is Associate Professor and Screen Cultures Director of Graduate Studies in the Department of Film, Radio, and Television at Northwestern University.