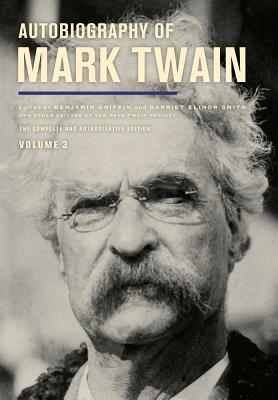 Autobiography of Mark Twain, Volume 3
The Complete and Authoritative Edition (Mark Twain Papers #12)
Hardcover

* Individual store prices may vary.
Other Editions of This Title:
Hardcover (11/15/2010)
Paperback (3/26/2012)
Paperback (5/25/2012)
Description
The surprising final chapter of a great American life.

When the first volume of Mark Twain's uncensored Autobiography was published in 2010, it was hailed as an essential addition to the shelf of his works and a crucial document for our understanding of the great humorist's life and times. This third and final volume crowns and completes his life's work. Like its companion volumes, it chronicles Twain's inner and outer life through a series of daily dictations that go wherever his fancy leads.

Created from March 1907 to December 1909, these dictations present Mark Twain at the end of his life: receiving an honorary degree from Oxford University; railing against Theodore Roosevelt; founding numerous clubs; incredulous at an exhibition of the Holy Grail; credulous about the authorship of Shakespeare's plays; relaxing in Bermuda; observing (and investing in) new technologies. The Autobiography's "Closing Words" movingly commemorate his daughter Jean, who died on Christmas Eve 1909. Also included in this volume is the previously unpublished "Ashcroft-Lyon Manuscript," Mark Twain's caustic indictment of his "putrescent pair" of secretaries and the havoc that erupted in his house during their residency.

Fitfully published in fragments at intervals throughout the twentieth century, Autobiography of Mark Twain has now been critically reconstructed and made available as it was intended to be read. Fully annotated by the editors of the Mark Twain Project, the complete Autobiography emerges as a landmark publication in American literature.


Editors: Benjamin Griffin and Harriet Elinor Smith
Associate Editors: Victor Fischer, Michael B. Frank, Amanda Gagel, Sharon K. Goetz, Leslie Diane Myrick, Christopher M. Ohge
Praise For Autobiography of Mark Twain, Volume 3: The Complete and Authoritative Edition (Mark Twain Papers #12)…
"Covering just the last couple of years in Twain's long life, this is the concluding volume of the masterful University of California edition of his autobiography: unexpurgated, cross-referenced, and richly annotated. . . . The swan song reinforces things well established by its predecessors." - STARRED REVIEW
— Kirkus

"Sharp and witty here as he is in his fiction. . . . Closes the book on the remarkable life of one of America's most outstanding literary talents."
— Publishers Weekly

"The abundant morsels here give us a glimpse into the big human heart of our great American author."
— Buffalo News

"His deep love for the language, for expression, for telling what is on his mind and in his heart, keeps him talking to us, right up to the very end of the autobiography, when the death of his daughter Jean leads him to close it forever."
— Hartford Courant

"Rambling; charming; vitriolic; confessional ("I am fond of pomp and display"); shot through with wit, lyricism and regret. . . . Captivating and invaluable."
— The Washington Post

"Rambling, cantankerous, funny—and sad."
— The Christian Science Monitor

"Chock-full of his trademark outbursts and his sly sense of humor."
— The Boston Globe

"[Twain] lives on through his works, including this landmark publication."
— San Francisco Chronicle

"There was a private Sam Clemens and a public Mark Twain, and both of them can be found in Autobiography of Mark Twain."
— National Post

"The verdict: admirable, opulent, incredibly thorough, surely a treasure trove beyond price for Twain scholars, endlessly pleasant to paw through for those of us who find Twain hilarious and moving and blunt and inimitable."
— Christian Century

"Reading the autobiography is like sitting in a room with Mark Twain and listening to him talking about whatever happens to come into his mind. As such, it is truly fascinating."
— Resources for American Literary Study
University of California Press, 9780520279940, 792pp.
Publication Date: October 15, 2015
About the Author
Benjamin Griffin and Harriet Elinor Smith are editors at the Mark Twain Project, which is housed within the Mark Twain Papers, the world's largest archive of primary materials by this major American writer. Under the direction of General Editor Robert H. Hirst, the Project's editors are producing the first comprehensive edition of all of Mark Twain's writings.