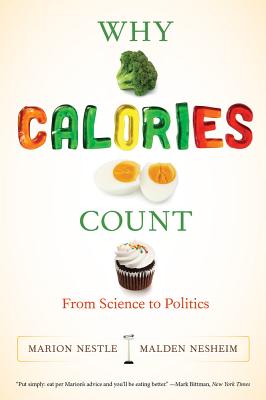 Why Calories Count
From Science to Politics (California Studies in Food and Culture)
Paperback

* Individual store prices may vary.
Description
Calories—too few or too many—are the source of health problems affecting billions of people in today's globalized world. Although calories are essential to human health and survival, they cannot be seen, smelled, or tasted. They are also hard to understand. In Why Calories Count, Marion Nestle and Malden Nesheim explain in clear and accessible language what calories are and how they work, both biologically and politically. As they take readers through the issues that are fundamental to our understanding of diet and food, weight gain, loss, and obesity, Nestle and Nesheim sort through a great deal of the misinformation put forth by food manufacturers and diet program promoters. They elucidate the political stakes and show how federal and corporate policies have come together to create an "eat more" environment. Finally, having armed readers with the necessary information to interpret food labels, evaluate diet claims, and understand evidence as presented in popular media, the authors offer some candid advice: Get organized. Eat less. Eat better. Move more. Get political.
Praise For Why Calories Count: From Science to Politics (California Studies in Food and Culture)…
"A feast for the mind."
— Nature

"The most succinct diet book ever written."
— The Scientist

"Along with offering a fascinating history, they show how an understanding of calorie needs saved lives in the global fight against hunger."
— Emily Kaiser Thelin

"People should read this book. They should read it if they are obsessive weight-watchers or serial dieters, or just concerned about what their children eat. They should read it if they work in public health, the food industry, catering, or education."
— Times Higher Education

"Takes the science of calories and breaks it down for the rest of us."
— San Francisco Chronicle

"This book will help dispel many of the commonly held myths we have about eating. An informative and interesting read for those who want to know the science behind calories, food and weight."
— Huffington Post Books

"Presents an interesting series of opinions and overviews that are deserving of a wider audience."
— yum.fi

"Does the seemingly impossible: it takes calories from the abstract to the concrete. Nestle and Nesheim explain the significance of the calorie not only in understandable scientific terms, but also in social terms with the explicit aim of helping their reader navigate the convoluted world of food labels and diet fads."
— Civil Eats
University of California Press, 9780520280052, 304pp.
Publication Date: September 4, 2013
About the Author
Marion Nestle is Paulette Goddard Professor in the Department of Nutrition, Food Studies, and Public Health and Professor of Sociology at New York University. She is the author of What to Eat and, from UC Press, Food Politics: How the Food Industry Influences Nutrition and Health; Safe Food: The Politics of Food Safety; and Pet Food Politics: The Chihuahua in the Coal Mine. Malden Nesheim is Professor Emeritus of Nutritional Sciences at Cornell University. He is coauthor (with Marion Nestle) of Feed Your Pet Right: The Authoritative Guide to Feeding Your Dog and Cat and (with Ann L. Yaktine) of the Institute of Medicine report Seafood Choices: Balancing Benefits and Risks.