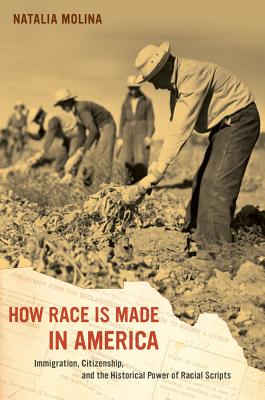 How Race Is Made in America (Paperback)
Immigration, Citizenship, and the Historical Power of Racial Scripts (American Crossroads #38)
University of California Press, 9780520280083, 232pp.
Publication Date: January 1, 2014
Other Editions of This Title:
Hardcover (1/1/2014)
* Individual store prices may vary.
Description

How Race Is Made in America examines Mexican Americans—from 1924, when American law drastically reduced immigration into the United States, to 1965, when many quotas were abolished—to understand how broad themes of race and citizenship are constructed. These years shaped the emergence of what Natalia Molina describes as an immigration regime, which defined the racial categories that continue to influence perceptions in the United States about Mexican Americans, race, and ethnicity.



Molina demonstrates that despite the multiplicity of influences that help shape our concept of race, common themes prevail. Examining legal, political, social, and cultural sources related to immigration, she advances the theory that our understanding of race is socially constructed in relational ways—that is, in correspondence to other groups. Molina introduces and explains her central theory, racial scripts, which highlights the ways in which the lives of racialized groups are linked across time and space and thereby affect one another. How Race Is Made in America also shows that these racial scripts are easily adopted and adapted to apply to different racial groups.
About the Author

Natalia Molina is Associate Dean for Faculty Equity, Division of Arts and Humanities and Associate Professor of History and Urban Studies at the University of California, San Diego and author of Fit to Be Citizens?: Public Health and Race in Los Angeles, 1879-1940 (UC Press, 2006)

 
Praise For How Race Is Made in America: Immigration, Citizenship, and the Historical Power of Racial Scripts (American Crossroads #38)…
"Highly recommended."
— CHOICE
"Natalia Molina's examination of racial construction of Mexican immigrants and Mexican Americans is notable and thorough . . . Terms are well defined, arguments are soundly presented, and commonly known historical events are explained."
— Patrick Lukens
"Molina has written a formidable and accessible monograph that unravels the process of race-making to show that the question of belonging requires a relational approach. . . Invaluable."
— Chantel Rodriguez