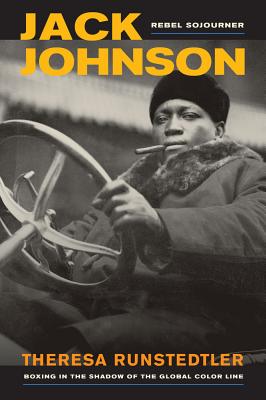 Jack Johnson, Rebel Sojourner (Paperback)
Boxing in the Shadow of the Global Color Line (American Crossroads #33)
University of California Press, 9780520280113, 376pp.
Publication Date: September 1, 2013
* Individual store prices may vary.
Description
In his day, Jack Johnson—born in Texas, the son of former slaves—was the most famous black man on the planet. As the first African American World Heavyweight Champion (1908–1915), he publicly challenged white supremacy at home and abroad, enjoying the same audacious lifestyle of conspicuous consumption, masculine bravado, and interracial love wherever he traveled. Jack Johnson, Rebel Sojourner provides the first in-depth exploration of Johnson's battles against the color line in places as far-flung as Sydney, London, Cape Town, Paris, Havana, and Mexico City. In relating this dramatic story, Theresa Runstedtler constructs a global history of race, gender, and empire in the early twentieth century.
About the Author
Theresa Runstedtler is Assistant Professor of American Studies at the University of Buffalo.
Praise For Jack Johnson, Rebel Sojourner: Boxing in the Shadow of the Global Color Line (American Crossroads #33)…
"This book is a must-have addition to any boxing fan's library."
— Glenn Wilson
"Runstedtler brings new perspectives to bear in Jack Johnson, Rebel Sojourner. . . it's well worth the read."
— Thomas Hauser
"Runstedtler presents an unexpected yet wholly authentic take on the great African American boxer, Jack Johnson."
— Alan Moores
"A fascinating must-read for students of African American or American studies covering the early 1900s."
— Jim Burns
"My nominee for book of the year by a rising young scholar. . . . For anyone interested in colonialism, imperialism, race, and the global impact of sport, this book is a must read."
— Mark Naison
"A thoroughly researched, scholarly study, meant to be read slowly and considered deeply. . . . Highly recommended for all readers."
— R. W. Roberts, Purdue University