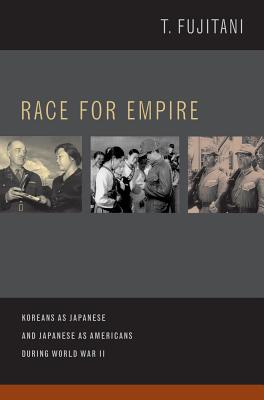 Race for Empire (Paperback)
Koreans as Japanese and Japanese as Americans during World War II
University of California Press, 9780520280212, 520pp.
Publication Date: July 20, 2013
Other Editions of This Title:
Hardcover (11/1/2011)
* Individual store prices may vary.
Description
Race for Empire offers a profound and challenging reinterpretation of nationalism, racism, and wartime mobilization during the Asia-Pacific war. In parallel case studies—of Japanese Americans mobilized to serve in the United States Army and of Koreans recruited or drafted into the Japanese military—T. Fujitani examines the U.S. and Japanese empires as they struggled to manage racialized populations while waging total war. Fujitani probes governmental policies and analyzes representations of these soldiers—on film, in literature, and in archival documents—to reveal how characteristics of racism, nationalism, capitalism, gender politics, and the family changed on both sides. He demonstrates that the United States and Japan became increasingly alike over the course of the war, perhaps most tellingly in their common attempts to disavow racism even as they reproduced it in new ways and forms.
About the Author
T. Fujitani is the Dr. David Chu Professor in Asia-Pacific Studies and Professor of History at the University of Toronto. He is the editor of Perilous Memories: The Asia Pacific War(s) and is the author of Splendid Monarchy: Power and Pageantry in Modern Japan (UC Press).
Praise For Race for Empire: Koreans as Japanese and Japanese as Americans during World War II…
"[A] monumental history. . . . This magisterial book will be indispensable reading for historians of the United States, Japan, and Korea."
— Kornel S. Chang, Rutgers University
"[This book] is very important and should be read and studied by all serious students of Asian studies, Japanese American studies, and the Pacific War. . . . Highly recommended."
— Choice
"Truly impressive archival work and rigorous conceptualization. . . . Provides compelling narratives and analyses of Japanese colonialism in Korea."
— Henry Em, Yonsei University