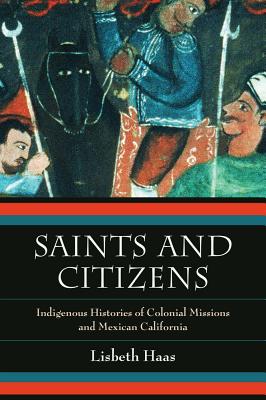 Saints and Citizens (Paperback)
Indigenous Histories of Colonial Missions and Mexican California
University of California Press, 9780520280625, 272pp.
Publication Date: November 9, 2013
Other Editions of This Title:
Hardcover (11/9/2013)
* Individual store prices may vary.
Description

Saints and Citizens is a bold new excavation of the history of Indigenous people in California in the late eighteenth and nineteenth centuries, showing how the missions became sites of their authority, memory, and identity. Shining a forensic eye on colonial encounters in Chumash, Luiseño, and Yokuts territories, Lisbeth Haas depicts how native painters incorporated their cultural iconography in mission painting and how leaders harnessed new knowledge for control in other ways. Through her portrayal of highly varied societies, she explores the politics of Indigenous citizenship in the independent Mexican nation through events such as the Chumash War of 1824, native emancipation after 1826, and the political pursuit of Indigenous rights and land through 1848.
About the Author

Lisbeth Haas is Professor of History at the University of California, Santa Cruz, and author of Pablo Tac, Indigenous Scholar: Writing on Luiseño Language and Colonial History, c. 1840 (UC Press, 2011) and Conquests and Historical Identities in California, 1769–1936 (UC Press, 1995).
Praise For Saints and Citizens: Indigenous Histories of Colonial Missions and Mexican California…
"Effectively succeeds in giving voice and vision to the indigenous histories of early California."
— CHOICE
"Creative insights into the complex world of Indian and colonial relations that all students of American history should value."
— Albert L. Hurtado