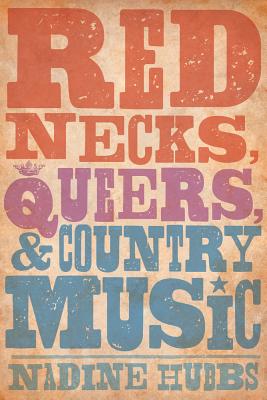 Rednecks, Queers, and Country Music (Paperback)
University of California Press, 9780520280663, 240pp.
Publication Date: March 22, 2014
Other Editions of This Title:
Hardcover (3/22/2014)
* Individual store prices may vary.
Description

In her provocative new book Rednecks, Queers, and Country Music, Nadine Hubbs looks at how class and gender identity play out in one of America's most culturally and politically charged forms of popular music. Skillfully weaving historical inquiry with an examination of classed cultural repertoires and close listening to country songs, Hubbs confronts the shifting and deeply entangled workings of taste, sexuality, and class politics.



In Hubbs's view, the popular phrase "I'll listen to anything but country" allows middle-class Americans to declare inclusive "omnivore" musical tastes with one crucial exclusion: country, a music linked to low-status whites. Throughout Rednecks, Queers, and Country Music, Hubbs dissects this gesture, examining how provincial white working people have emerged since the 1970s as the face of American bigotry, particularly homophobia, with country music their audible emblem. Bringing together the redneck and the queer, Hubbs challenges the conventional wisdom and historical amnesia that frame white working folk as a perpetual bigot class.



With a powerful combination of music criticism, cultural critique, and sociological analysis of contemporary class formation, Nadine Hubbs zeroes in on flawed assumptions about how country music models and mirrors white working-class identities. She particularly shows how dismissive, politically loaded middle-class discourses devalue country's manifestations of working-class culture, politics, and values, and render working-class acceptance of queerness invisible.



Lucid, important, and thought-provoking, this book is essential reading for students and scholars of American music, gender and sexuality, class, and pop culture.
About the Author

Nadine Hubbs is Professor of Women's Studies and Music, Faculty Associate in American Culture, and Director of the Lesbian-Gay-Queer Research Initiative (LGQRI) at the University of Michigan; she is the author of the award-winning book The Queer Composition of America's Sound: Gay Modernists, American Music, and National Identity (UC Press). 
Praise For Rednecks, Queers, and Country Music…
"This is one of the most intellectually stimulating books I have read in a long time."
— Benita Wolters-Fredlund
Rednecks, Queers, and Country Music is an intellectual tour de force that offers a nuanced exploration of the ways that white middle-class attitudes toward country music and white working-class modes of discourse have led to the marginalization of the white working class in political and cultural discourse.
— Travis Stimeling
"Rednecks, Queers, and Country Music" is a far-ranging, multi-layered analysis, full of provocative insights, packaged in crisp, engaging prose"
— John Hayes
"Hubbs uses country music to uncover longstanding alliances between white working class and queer subcultures. Such alliances have been obscured by stereotypes of low-status whites, or "rednecks," as uniformly bigoted and homophobic, and of "middle America" as homogenous and provincial. Hubbs trenchantly critiques middle-class disavowals of working class culture (exemplified by the phrase "I'll listen to anything but country"), and meticulously analyzes songs by the Foo Fighters, Gretchen Wilson, David Allen Coe, and others. Hubbs writes that "To hear country on its own terms, we must seek out the particular values and devalued culture of the working class.""
— IASPM-US (2015 Woody Guthrie Award, Honorable Mention)