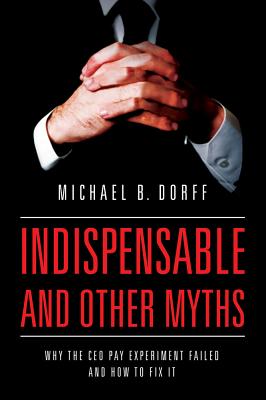 Indispensable and Other Myths
Why the CEO Pay Experiment Failed and How to Fix It
Hardcover

* Individual store prices may vary.
Description
Prodded by economists in the 1970s, corporate directors began adding stock options and bonuses to the already-generous salaries of CEOs with hopes of boosting their companies' fortunes. Guided by largely unproven assumptions, this trend continues today. So what are companies getting in return for all the extra money? Not much, according to the empirical data.

In Indispensable and Other Myths: Why the CEO Pay Experiment Failed and How to Fix It, Michael Dorff explores the consequences of this development. He shows how performance pay has not demonstrably improved corporate performance and offers studies showing that performance pay cannot improve performance on the kind of tasks companies ask of their CEOs. Moreover, CEOs of large established companies do not typically have much impact on their companies' results. In this eye-opening exposé, Dorff argues that companies should give up on the decades-long experiment to mold compensation into a corporate governance tool and maps out a rationale for returning to the era of guaranteed salaries.
Praise For Indispensable and Other Myths: Why the CEO Pay Experiment Failed and How to Fix It…
"A carefully stated cri de guerre against 'the current cult of leadership' that characterizes corporate culture—and leads to extraordinary paychecks. . . . A provocative thesis couched in measured, scholarly language. Watch the editorial pages of Bloomberg News and the Wall Street Journal to see whether it catches on."
— Kirkus
"Every director needs to read Dorff's new book. It's time to give pay for performance a new look."
— Stephen Bainbridge
"'Indispensable and Other Myths' is an all-guns-blazing attack on the way that Anglo-Saxon companies pay their bosses."
— The Economist
"Dorff argues convincingly, from the evidence available, that the behavioural theory developed in capitalism that performance-related pay is a significant motivator for employees does not hold up to scrutiny. . . . This is a must-read for human resources professionals and others willing to give serious thought to CEO and top management pay, and what those people realistically can and do deliver."
— Cary Cooper
"Dorff makes a persuasive case that performance pay is overrated."
— Jonathan Low
University of California Press, 9780520281011, 328pp.
Publication Date: August 1, 2014
About the Author
Michael Dorff has taught at UCLA School of Law, Rutgers Law School, and the Peter F. Drucker and Masatoshi Ito Graduate School of Management. He is currently Professor of Law at Southwestern Law School, where he teaches corporate law and other business law topics.
or
Not Currently Available for Direct Purchase