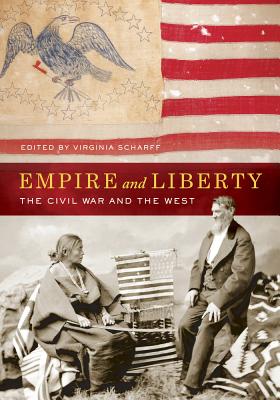 Empire and Liberty (Hardcover)
The Civil War and the West
University of California Press, 9780520281264, 247pp.
Publication Date: April 9, 2015
* Individual store prices may vary.
Description
Empire and Liberty brings together two epic subjects in American history: the story of the struggle to end slavery that reached a violent climax in the Civil War, and the story of the westward expansion of the United States. Virginia Scharff and the contributors to this volume show how the West shaped the conflict over slavery and how slavery shaped the West, in the process defining American ideals about freedom and influencing battles over race, property, and citizenship.

This innovative work embraces East and West, as well as North and South, as the United States observes the 2015 sesquicentennial commemoration of the end of the Civil War. A companion volume to an Autry National Center exhibition on the Civil War and the West, Empire and Liberty brings leading historians together to examine artifacts, objects, and artworks that illuminate this period of national expansion, conflict, and renewal.
About the Author
Virginia Scharff is Distinguished Professor of History and Director of the Center for the Southwest at the University of New Mexico. She is the co-curator (with Carolyn Brucken) of the "Empire and Liberty" exhibition at the Autry National Center, where she serves as Women of the West Chair. Her previous works include Twenty Thousand Roads: Women, Movement, and the West; The Women Jefferson Loved; and Home Lands: How Women Made the West (with Carolyn Brucken).
Praise For Empire and Liberty: The Civil War and the West…
"A wide-ranging, valuable addition to the literature on the American West that reveals the truly continental nature of one of America's most defining struggles."
— Publishers Weekly
"A signal contribution to the understanding of some central themes in US history . . . An important model for a new, broader use of material objects in understanding the country's past."
— D. Steeples