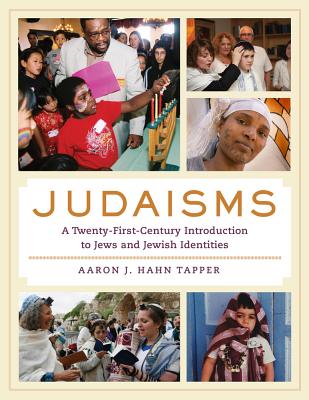 Judaisms (Paperback)
A Twenty-First-Century Introduction to Jews and Jewish Identities
University of California Press, 9780520281356, 280pp.
Publication Date: June 7, 2016
Other Editions of This Title:
Hardcover (6/7/2016)
* Individual store prices may vary.
Description
What does it mean to be a Jew in the twenty-first century? Exploring the multifaceted and intensely complicated characteristics of this age-old, ever-changing community,
Judaisms
examines how Jews are a culture, ethnicity, nation, nationality, race, religion, and more. With each chapter revolving around a single theme (Narratives, Sinais, Zions, Messiahs, Laws, Mysticisms, Cultures, Movements, Genocides, Powers, Borders, and Futures) this introductory textbook interrogates and broadens readers' understandings of Jewish communities. Written for a new mode of teaching—one that recognizes the core role that identity formation plays in our lives—this book weaves together alternative and marginalized voices to illustrate how Jews have always been in the process of reshaping their customs, practices, and beliefs.
Judaisms
is the first book to assess and summarize Jewish history from the time of the Hebrew Bible through today using multiple perspectives.  
Ideal for classroom use,
Judaisms
provides a synthetic and coherent alternative understanding of Jewish identity for students of all backgrounds;
focuses on both the history of and potential futures for physical and ideological survival;
includes an array of engaging images, many in color;
offers extensive online resources including notes, key terms, a timeline of major texts, and chapter-by-chapter activities for teaching.
About the Author
Aaron J. Hahn Tapper is the Mae and Benjamin Swig Associate Professor in Jewish Studies and the Founder and Director of the Swig Program in Jewish Studies and Social Justice at the University of San Francisco.
Praise For Judaisms: A Twenty-First-Century Introduction to Jews and Jewish Identities…
"Hahn Tapper hopes the book will 'convey academic ideas in a digestible way' — for anyone from the casual Jewish reader to the non-Jewish university student taking a course on Judaism. There is plenty in this book that will surprise even many well-read Jews, or recast common knowledge in a new light."
— J., the Jewish News Weekly
"Using a social psychology approach, Hahn Tapper...invite[s] readers to see their own identities reflected through the lens of what they [a]re reading and discovering about Judaism and the Jewish experience."—Renee Ghert-Zand, The Times of Israel
— The Times of Israel
"We've all been taught not to judge a book by its cover, but the cover images of "Judaisms" alert the reader that this is not your typical course reader on the Jewish religion....This book, which serves both as an easy-to-read text for undergrads as well as a more advanced selection for graduate students (footnotes are available online), articulates that today's Jewish community is vastly different than the one at the turn of the last century let alone a century ago."
— Rabbi Jason Miller
"A resounding success in diversifying the picture of Jews and Jewishness."
— Reading Religion