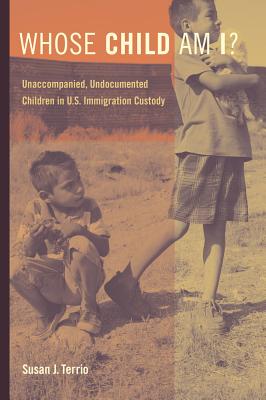 Whose Child Am I? (Paperback)
Unaccompanied, Undocumented Children in U.S. Immigration Custody
University of California Press, 9780520281493, 280pp.
Publication Date: May 1, 2015
Other Editions of This Title:
Hardcover (5/1/2015)
* Individual store prices may vary.
Description
In 2014, the arrest and detention of thousands of desperate young migrants at the southwest border of the United States exposed the U.S. government's shadowy juvenile detention system, which had escaped public scrutiny for years. This book tells the story of six Central American and Mexican children who are driven from their homes by violence and deprivation, and who embark alone, risking their lives, on the perilous journey north. They suffer coercive arrests at the U.S. border, then land in detention, only to be caught up in the battle to obtain legal status. Whose Child Am I? looks inside a vast, labyrinthine system by documenting in detail the experiences of these youths, beginning with their arrest by immigration authorities, their subsequent placement in federal detention, followed by their appearance in deportation proceedings and release from custody, and, finally, ending with their struggle to build new lives in the United States. This book shows how the U.S. government got into the business of detaining children and what we can learn from this troubled history.
About the Author
Susan J. Terrio is Professor of Anthropology at Georgetown University. She is author of Judging Mohammed: Juvenile Delinquency, Immigration, and Exclusion at the Paris Palace of Justice and Crafting the Culture and History of French Chocolate.
Praise For Whose Child Am I?: Unaccompanied, Undocumented Children in U.S. Immigration Custody…
"A powerful and timely exposure of the institutional violence suffered by migrant minors in federal custody who are being detained under two competing agendas—mandatory detention in custodial facilities and removal proceedings in immigration courts. . . . Whose Child Am I? underscores the imperative of immigration reform for both practical and humanitarian reasons."
— New York Journal of Books
"This volume is neither conservative nor liberal. It is a balanced presentation of the system, pro and con, for handling undocumented children who come to this country on their own or because they are brought here. . . . Incredibly readable and insightful. An exceptional book that does real justice to an enormously important topic. . . . Highly Recommended."
— K. E. Murphy,
"Susan Terrio did an excellent job at exposing a major issue in the American government.... This book rightly argues that the United States has a long way to go before it is a positive influence on immigrant children who need to spend time in custody."
— Journal of Youth and Adolescence
"Writing with flair, clarity, and social purpose, Terrio's extensive use of personal narratives is the strongest aspect of this book. A signi?cant contribution to those interested in Central American–origin Latinas/os, Latina/o incarceration, Latina/o migration, and childhood studies. "
— Latino Studies