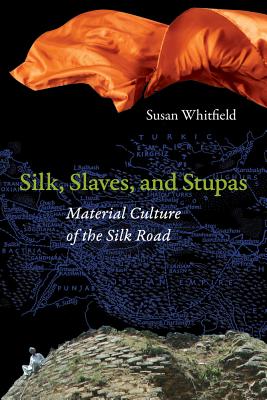 Silk, Slaves, and Stupas
Material Culture of the Silk Road
Paperback

* Individual store prices may vary.
Other Editions of This Title:
Hardcover (3/13/2018)
Description
Following her bestselling Life Along the Silk Road, Susan Whitfield widens her exploration of the great cultural highway with a new captivating portrait focusing on material things. Silk, Slaves, and Stupas tells the stories of ten very different objects, considering their interaction with the peoples and cultures of the Silk Road—those who made them, carried them, received them, used them, sold them, worshipped them, and, in more recent times, bought them, conserved them, and curated them. From a delicate pair of earrings from a steppe tomb to a massive stupa deep in Central Asia, a hoard of Kushan coins stored in an Ethiopian monastery to a Hellenistic glass bowl from a southern Chinese tomb, and a fragment of Byzantine silk wrapping the bones of a French saint to a Bactrian ewer depicting episodes from the Trojan War, these objects show us something of the cultural diversity and interaction along these trading routes of Afro-Eurasia.
 
Exploring the labor, tools, materials, and rituals behind these various objects, Whitfield infuses her narrative with delightful details as the objects journey through time, space, and meaning. Silk, Slaves, and Stupas is a lively, visual, and tangible way to understand the Silk Road and the cultural, economic, and technical changes of the late antique and medieval worlds.   
 
Praise For Silk, Slaves, and Stupas: Material Culture of the Silk Road…
"One of the virtues of Whitfield's approach is that she is able to range far and wide among the various peoples, cultures, and polities of Eurasia and Africa. Though half of her ten chapters deal with objects that were excavated within the present-day boundaries of China—a reflection of the longstanding Sinocentric bias in the field of Silk Road studies—Whitfield goes to great lengths to contextualize these finds within broader Eurasian networks of exchange far outside of China."
— Silk Road Journal

"Whitfield certainly seems to have identified a theme worth pursuing: the objects of the Silk Road are fascinating and a single object can encompass within it huge swathes, geographical and chronological, of human history."
— Asian Review of Books

"In Silk, Slaves, and Stupas, Susan Whitfield reminds her readers once again why she so thoroughly deserves her reputation as one of the most accomplished of all Silk Road scholars. [The book] demonstrates the author's command of all facets of Silk Road studies, and also her ability to unfold the story of this important period and process in word history by moving seamlessly from the particular to the general, from a single object to an entire field of research." 
— Central Asian Survey

'Whitfield's new book provides us with a brilliant example of how material history should be written.' 
— Journal of Asian Studies

"...this is an impressive and comprehensive work, one that can easily be envisaged as a primer for a university course that introduces the principal themes of the Silk Roads. There is much here too, though, for more established scholars working in part or all of this field thanks to Whitfield's research, which is up to date with the latest thinking on manumission of slaves, on the construction of Buddhist stupas, or the techniques of glass making. Susan Whitfield has written a rather wonderful book; it will serve as a gateway that will inspire future generations of scholars to follow in her footsteps."
— Journal of Medieval Worlds

"The level of detailed evidence that [Whitfield] unearths . . . is both impressive and enticing."
— Journal of World History

"A page-turner comparable to a good detective story."
— International Institute for Asian Studies

"All these [Silk Road] objects have intriguing stories to tell, and Susan Whitfield succeeds impressively in giving them a voice."
— New Global Studies

"Kaleidoscopic. . . . A pleasure to explore and will delight readers from a wide sphere."
— Asian Perspectives: The Journal of Archaeology and the Pacific
University of California Press, 9780520281783, 376pp.
Publication Date: March 13, 2018
About the Author
Susan Whitfield, author of Life Along the Silk Road, is a scholar, curator, writer, and traveler who has been exploring the history, art, religions, cultures, objects, exploration, and people of the Silk Road for the past three decades.