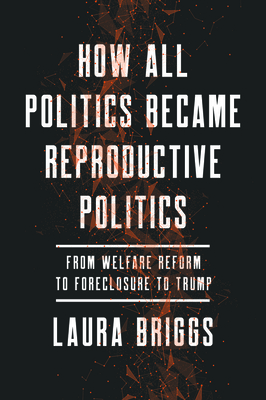 How All Politics Became Reproductive Politics
From Welfare Reform to Foreclosure to Trump (Reproductive Justice: A New Vision for the 21st Century #2)
Hardcover

* Individual store prices may vary.
Other Editions of This Title:
Paperback (8/14/2018)
Description
Today all politics are reproductive politics, argues esteemed feminist critic Laura Briggs. From longer work hours to the election of Donald Trump, our current political crisis is above all about reproduction. Households are where we face our economic realities as social safety nets get cut and wages decline. Briggs brilliantly outlines how politicians' racist accounts of reproduction—stories of Black "welfare queens" and Latina "breeding machines"—were the leading wedge in the government and business disinvestment in families. With decreasing wages, rising McJobs, and no resources for family care, our households have grown ever more precarious over the past forty years in sharply race-and class-stratified ways. This crisis, argues Briggs, fuels all others—from immigration to gay marriage, anti-feminism to the rise of the Tea Party.
Praise For How All Politics Became Reproductive Politics: From Welfare Reform to Foreclosure to Trump (Reproductive Justice: A New Vision for the 21st Century #2)…
"Makes a convincing argument that reproductive labor is at the heart of all public conversation and policy over the past several decades. . . . She manages to pull off this extensive examination in just 212 pages, using language that is accessible to those who are new to the material, while also creating crucial new understanding for those who consider themselves informed on gender and politics and/or people who are examining ways to use public policies to create change as part of broader justice movements."
— Rewire

"Offers readers a way to understand how neoliberalism's solutions run absolutely counter to social needs."
— Against the Current

"This engaging book covers feminist theory and how it views a divergence of issues since the 1970s. Excellent for collections on feminism, current affairs, and American politics."
— Choice

"Briggs concludes dramatically that 'in the US . . . there is no outside to reproductive politics.' Until governments and business pay attention to this, the crises of our time will only deepen—and not just in the US."
— Times Higher Education Supplement

"Offers readers a way to understand how neoliberalism's solutions run absolutely counter to social needs."
— In These Times

"Makes a clear and significant contribution to our understandings of reproductive politics."
— Gender and Society

"Briggs handles complex politics clearly and straightforwardly. Her text is well-suited for academics and activists alike."
— RGWS: A Feminist Review
University of California Press, 9780520281912, 304pp.
Publication Date: September 12, 2017
About the Author
Laura Briggs is Professor and Chair of the Women, Gender, and Sexuality Studies department at the University of Massachusetts Amherst. She is the author of several books on gender and empire, including Reproducing Empire: Race, Sex, Science, and U.S. Imperialism in Puerto Rico and, most recently, Somebody's Children: The Politics of Transracial and Transnational Adoption. She also serves as an editor for the University of California Press American Crossroads series.